This Month features:
---
Swamiji's Message on the ocasssion of Sri Rama Navami, April 14th 2008
My Hearty Divine Blessings to you all on the ocassion of Sri Rama Navami.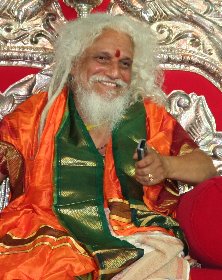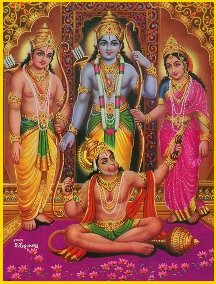 The life story of Sri Rama teaches us two lessons: the value of detachment and the need to become aware of the Divine in every being. Faith in God and detachment from objective pursuits are the keys for human liberation. Give up sense objects, and you gain Rama. Sita gave up the luxuries of Ayodhya so she could be with Rama during His exile. When she cast longing eyes on the golden deer and craved it, she lost Rama's presence. Renunciation leads to joy; attachment brings about grief. Be in the world, but not of it.
From time immemorial, every individual has regarded Sri Rama's life as an ideal and has sought to sanctify every moment of his life by living up to it. Sri Rama incarnated as a human being to promote peace and happiness in the world. Sri Rama is the embodiment of righteousness. It was as if righteousness itself had incarnated on earth. Dharma and Rama are inseparable.
Sri Rama's life is an ideal for the whole world. The way he led his life should be an ideal for all of us. Adherence to Truth and Dharma(Righteousness) is what Sri Rama's life teaches us. He put into practise the concept of one word, one arrow and one wife.

Rama demonstrated to humanity as to how to lead a perfect life and discharge the responsibilities to others. Ramayana contains teachings for all of us for different ages and stages. The teachings of Ramayana are valid even today for our daily living.To pray to, and worship Lord Rama is not enough, what is needed is for us to make him as our ideal and walk in his footsteps

May you all attain the final beatitude of life through intense devotion! May you live immersed in the ecstasy of divine love! and the blessings of Lord Rama be upon you all!
With Divine Blessings on this auspicious ocassion.
Sri Sri Sri Viswayogi Viswamjee Maharaj.
---
Swamiji's Message on the ocassion of Ugadi, April 7th 2008


My hearty Divine Blessings to all on the ocassion of Ugadi.
The name "Ugadi" came from Yuga + Aadi which means "Beginning of a New age.
Ugadi should not be treated merely as a festive occasion. It must be regarded as a day dedicated to the Divine. The ugadi reminds man to express gratitude to the Divine for all the grace received from God.
Hence, you should fill every moment with pure thoughts, with pure feelings and pure actions. Every moment one should try to get rid of bad thoughts and fill the mind with good thoughts and thereby strengthen oneself.
In fact Every day of life should be a ugadi and one should strive to attain all the five strengths namely physical strength, mental strength, social strength, financial strength and spiritual and be a strong individual in all aspects.
My divine blessings on this Ugadi and I bless you to enjoy bliss of devotion and overcome pain and sorrow by getting rid of ignorance and cultivating right knowledge, use the knowledge so gained for the good of society, and working together make this world an abode of peace.

Sri Sri Sri Viswayogi Viswamjee Maharaj

---