VISWANAGAR

On the Guntur-Madras Grand Trunk road 16 km from Guntur, near Chinakondrupadu village, can be seen a board with the inscription "Viswa Nagar". Here the Anasuya dwaram (gate) welcomes devotees with open arms. On entering this gate there are rows of coconut trees and flower trees planted on either side of the road, that delight the heart, and next there is another gate the atridwaram. Sri Viswayogi Viswamji is an architect of architects. He is the Supreme Lord who has taken upon himself to construct Viswanagar and turn it into an abode of peace, a place of divine bliss, a beautiful sanctuary and a heaven on earth. Viswanagar occupies an area of 18 acres. On the west are the high mountain ranges of Kondaveedu and the land naturally slants down towards East and North-East enabling water to flow downwards from mountains.
On the South western side of Viswanagar is constructed the Universal Integration pillar. It is 99 feet high and 45 feet in diameter and is in form of a globe with eight gateways and to the south west of this great pillar is the statue of Lord Sri Krishna.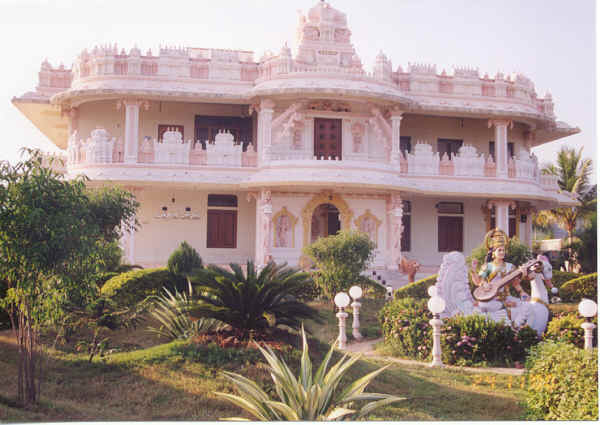 On the Northern side is the Viswagurupeetham(universal abodeof Sri Viswamji) the building which Sri Viswayogi Viswamji chose as his centre for his Divine mission. On the North Western side is the Homasala(Place of offering worship to celestial Gods through fire). To the North Eastern side of the pillar, the land is a bit slopy and there is an idol of Goddess Saraswati(the deity of wisdom) with a Veena in her hands.
To the North East of Goddess Saraswati, and to left of main entrance of vnagar is the temple of Sri Kalpavriksha Varasiddhi Vinayaka(God of Learning and boon bestowing God). There is a road which runs on the Northern side of Viswagurupeetham. By the side of the road cottages are being constructed for the devotees. To The North Eastern side of the Viswaguru peetham is the idol of Lord Buddha, which can be seen while entering Viswanagar.
The celestial wish fulfilling tree the Oudambara Kalpavriksham and the Viswamandir where the Lord's padukas are installed are on the Western side of the Viswagurupeetham.
To the North of the Oudambara tree is the 21 foot idol of Abhaya Anjaneya installed on a 14 ft high pedestal. Even from a distance the idol is a feast to the eyes of the devotees and every one is attracted by its grandeur and beauty.
Idols of many other Gods and Goddesses have been installed in Viswanagar.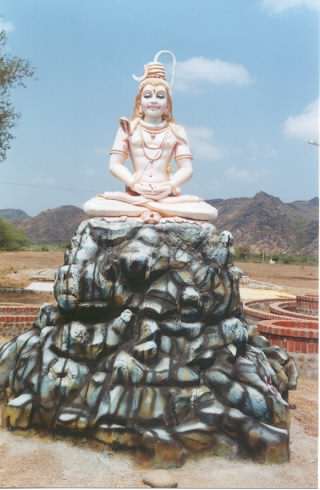 Lord Ganesha Goddess Lakshmi Lord Vishnu Lord Siva
Sun God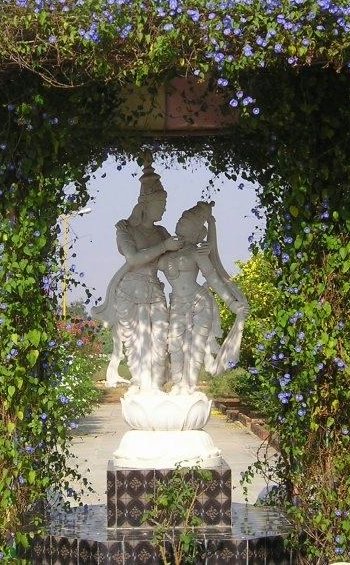 Lord Krishna and Radha