!body background = "../vft.jpg" text = "black" >
Divine Experiences

I was with You. I am with You. I will be with you.

-- Bhagwan Sri Sri Sri Viswayogi Viswamjee Maharaj
OM SRI SAI RAM GURUDEVA DATTA
---
With the divine blessings of His Holiness Bhagwan Sri Sri Sri Viswayogi Viswamjee Maharaj, experiences of devotees will be posted every month on the web site. Those interested in sharing their experiences may send e-mail to forviswaguru@hotmail.com and Swamiji's email at viswayogi@hotmail.com.
---
September 2017
By : Ram Challa , Memphis TN

I am a shy person not very vocal but I would like to share the Blessings/Experience I received from his Holiness Sri Sri Sri Viswayogi Viswamjee Maharaj or simply "Swami" in a very few words as possible. I was admitted for a 4 hour long back/spine surgery at Methodist University Hospital on August 1, 2017. I was given General Anesthesia that made me completely unconscious. I saw Swami's face with his hand raised. I spoke to Swami " Swami" what are you doing in this hospital and I immediately chanted the Dhanvantari Mantra. The next thing I knew (after 4-5 hours) was a nurse was trying to wake me up in the recovery room and she was saying if you hear my voice shake your toes. I was then wheeled to the hospital room and discharged. The next day my wife Anjana told me that Swami called her while she was in the waiting room at the Hospital the previous day and told her " After you go home ask your husband Ram if he saw me at the hospital the previous day and call me back".
I have known Swami since I was a teenager and he has done so many wonderful things for me over the years. When Swami says I am with you always he actually means it. I now feel good I got this off my heart by sharing with you all. My body has come back to its original condition as I write this experience. I am happy we are going to see him in person soon.
---
November 2011


By: Anjana Challa, Memphis, TN

Om Sri Sai Ram Guru Deva Datta
Swami is Apad Bandhava-the ever compassionate one who rushes to the aid of His devotees and protects them even when they do not know that because of some karma they did, they are about to face dangers in their life. Indeed, Swami is Karma bandha Vinashaya. The events of this world are in His control and He holds the strings of every person in this comic dance. Pranams to my Viswa Dutta, Pranam to the lotus feet of my Guru-who is my Mother, Father and my God.
On Thanksgiving (11.24.11) night, we were visiting some friends and were having dinner at their place. When we came out of their home, we found that someone had hit our car and damaged the front. Luckily we were not in it as the damage was quite severe. When we called Swami He informed that it was a drunk driver who caused this wreck. Luckily we were not in the car.
The following Tuesday, I took a ride from a colleague to go to work as the car was still not repaired and the road condition was bad after an icy storm. Then I received a call from a frantic lady saying she just saw my husband Ram having seizures in his car. Of course my heart stopped. She asked me to come right away. He was almost 20 miles away. I cried out for my colleague to take me there and immediately called Swami. Swami-ever gracious answered his daughter's cry and calmly told me to go the place. All the way to the site-I could not control my fear and anxiety. I was receiving calls from this good Samaritan lady that she had called the 911 and that ambulance had come and they were waiting for me. I was panicking. When I reached the scene-I was surprised to see that the car had not hit anyone or that no one had hit it. It hit the curb and went on the sidewalk and did not even scratch the cars parked in the parking lot. Also my husband walked off the ambulance. He was very shaky but the paramedics said he was conscious and so were releasing him to me. I called Swami again and explained what was going on and asked for advice. Swami told me to take him to the ER. I started driving there and on the way my husband started vomiting in the car. I was crying out for Swami all the way-driving to the Hospital.
Usually the ER wait time in this hospital is a couple of hours-but my husband was taken inside in less than 30 minutes. He was sent for CT scan and EKG was done on him. Swami was in touch with me and all the results came back clear. The doctors wanted to keep him for observation overnight. Swami let me know that he was there even before I called Him and had taken care of Ram. That is so true. Even the paramedics were surprised that how the car stopped in the highway without hitting anything and not being hurt. The next morning-more tests were done-MRI and EEG and all tests came clear. The doctors felt the generalized seizure was caused by some medications that my husband was on and they wanted him to stop taking those but to at once reduce the dosage first. They even called the doctor my husband sees and made appointment for him to go there the next day. In those ER doctors-I felt Swami was working through them.
The next day I took my husband to his doctor who will change his medications. I was then faced with another problem-the doctors said my husband cannot drive till they set him on his new medication. I was worried. Swami called back and wanted to know if I had something on my mind. I told him my concern as to how I will drive my son to school, husband to work and then go to work myself and asked him to find a way. As He promises, Swami helped out. One of the Officers who works in the same place my husband does offered to give my husband rides for the next few weeks. My colleague's wife also agreed to drive my husband to work for a fee.
Slowly my husband has to recover from the trauma and with Swami's grace I know he will make a full recovery. Swami is taking care of every need that His devotee has. How can I even live without His grace? He has seen me and my family through so many situations in life. How blessed we are to have the Lord Himself protecting us and walking among us as our Guru. How blessed we are and how merciful He is to us. Pranams to His loving feet.
---
October 2011
Srikanth, Jyothi, CA.

Om Sri Sai Rama Guru Deva Datta
GURUR BRAHMA, GURUR VISHNU, GURUR DEVO MAHESHWARAH
GURUR SAAKSHAAT PARA-BRAHMA, TASMAI SHRI GURUVE NAMAH.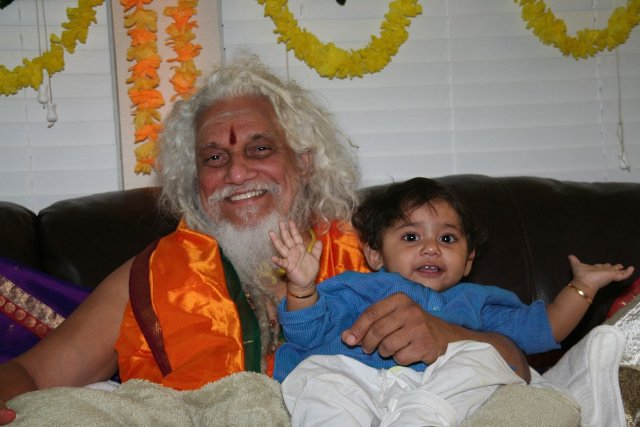 We are always been blessed by the Divine blessings of Swamiji, few days back following incident happened with my 3 year old son Shuchaye, Swamiji saved him from damage to his eye.

Shuchaye is a very active kid, he is always busy playing with toys. Few days back on a Sunday evening around 7:00 pm when he was playing with the kids laptop he hurt himself on eye with a sharp edge mouse jack causing a blood clot on the eye. He started crying and complaining about pain in the eye, we washed his eye with cold running water for few minutes, we immediately took him to the doctor office, doctor did a Fluorescent eye stain test, he showed us Shuchaye's eye, damage was equal to the size of pen head on the retina. We broke into sad throught's seeing that, he recommended a daily visit checkup for next 5 days. In this panic situation we resorted to call pujaya Swamiji, Swamiji received our call with extreme love and consoled us by telling not to worry and said HE IS ALWAYS WITH US and advised us to take Suchaye to the doctor again. As swami stated he is with us in every movement , miraculously next day when we took Suchaye to the Doctor, he tested eye and wonder took place Shuchaye's eye was back to normal, the blood clot and the scratch vanished. We were taken by surprise seeing all this, and there was only one way all this could happen in one day and it was all Pujya Swamijis miracle. Many many many pranams to pujaya Swamiji for a miraculous cure of our son. Guru guides, protects and gives hope and our Guru pujya Swamiji showered his blessing, and we will be always grateful for his divine presence in our life.
With Devotion,
Srikanth, Jyothi, CA.
---
1. Sirisha and Vijay Pedapudi, NJ
Car Dent Disappeared
Om Sri Sairam Gurudeva Datta. We are quite fortunate to share our incredible experience with all of you regarding Swamiji's divinity. Pujya Swamiji blessed us with a miraculous incident in July-2009. A series of interconnected events took place over a two week period, and through out which we experienced Swamiji's divine presence. His presence was felt even before His Holiness visited our area (NJ). 3
In the middle of July 2009, my husband Vijay was planning for Guruji's visit to NJ. At that time he was seriously thinking of reaching out to Buddhist groups to arrange for a discourse or at the least a meeting with Swamiji, but he did not know any Buddhist person. About three days later I had an accident in the parking lot of my son's daycare while backing up the car. The other driver was an Asian American named Frank. Later that week Guruji graced our area with his divine presence and we all got busy escorting His Holiness to various places. Vijay took a little time off to meet Frank to discuss the insurance company's estimate. Upon meeting him, Vijay explained him about Guruji and his divine mission of Universal Integration and Peace. It was then he came to know that Frank was a Buddhist. That was the first experience in this episode where we realized the presence of divine hand in making the connection for us because all these years that we lived in US we rarely came across a Buddhist. Vijay then left Frank's place after agreeing to pay for the car rental out of our own pocket and having the car fixed by the insurance company. Two days later when we called Frank to follow up, we were shocked to hear that he would manage without the rental car and that he wanted the rental amount to be donated to Guruji's cause instead. We donated the money to SVVFUIP as requested, and shared the story with Guruji. Soon after Guruji left for NY, we called Frank again to see if he had his car fixed and that's when we got the biggest shock! We got goose bumps all over our body. Frank said he was about to call us to tell a miraculous thing that happened to his car. In a complete disbelief, he said that the DENT DISAPPEARD on its own! He didn't have words to explain how it happened. He himself stated that it had to be a miracle. We were totally speechless and offered our humble gratitude to Swamiji with our eyes filled with tears. The following day I met him at daycare and he eagerly took me to his car and showed the area that previously had the dent. All that was left was a slight discoloration that Frank said he would take care of it himself. He further said that one of his friends also has a dent almost at the same spot but that's still there. Afterwards he said that he received a check for about $800 from insurance company towards the damages. That money he could now use for some other cause.
However, our car was still left with some minor damages that needed to be fixed. This is where the next strange experience happened. A few days after the above described incident happened, Vijay was in New York to attend a meeting at UN with Guruji. After the meeting, he came out of the building and started waiting for Mr. Ashok Tejpal to bring his car. While waiting for the car, Guruji started looking at him very seriously as if he expected him to say something. Vijay thought Guruji wanted to get his opinion about the meeting. He started to offer his feedback, but Guruji quickly brushed aside the topic and kept on looking at him. Apparently while he was talking about the meeting with Guruji, I made two calls to him for an urgent matter but he skipped the calls thinking that I just wanted to know the status of where we were and expected time of return (we frequently share such updates throughout His Holiness's visit). But when I called him the third time he finally answered the call and I told him about another accident that just took place where my car was hit from behind. By Guruji's grace, no one was hurt. The moment Vijay heard about the accident, he realized why Guruji's was so intently looking at him! As there were more significant scratches and a couple of minor dents from the second accident, our insurance company fixed our car and claimed the damages from other driver's insurance company. The repair also covered the damages from the first accident as both the damages were to the rear bumper and the repair shop fixed the first damage as a courtesy. So at the end, we got our car fixed and didn't have to pay for the car rental, and most importantly, the dent disappeared miraculously.
With Humble Pranamams to Pujya Guruji!
Sirisha and Vijay Pedapudi, NJ
2. Ram, Anjana and Anup Challa, Memphis, TN
Viswamjee gave us a second chance at Life
Pranams to the lotus feet of our divine guru Sri Viswamjee. We are the Challa Family (Ram, Anjana, and Anup) living in Memphis, Tennessee. Sri Viswamjee came into our lives about 25 years ago when we first met him through our uncle, Sri Madhavpeddi Radhakrishna Murthy garu in Guntur. Swami's blessings have seen us through many ups and downs in our lives. We want to share three miracles performed by Viswamjee that resulted in saving three lives:
In 1999, while living in New York City, my wife, Anjana was pregnant with our son, Anup. We kept the pregnancy a secret and never mentioned it to anybody. In the hospital Anjana who was in labor for 72 hours, collapsed. She imagined holding Sri Viswamjee's hand through the delivery. The baby had the umbilical cord twisted around his neck and the doctor's did not hear the baby's heartbeat. They performed an emergency C-Section in order to save the baby's life. The family waited outside the operation room and was told that the doctor's can save only one life, the baby or the mother.
Miraculously, a visiting doctor from Europe who specialized in difficult deliveries appeared and performed the surgery. The baby was placed in the Intensive Care Unit and received a blood transfusion. The doctors were very worried about the baby's recovery since he lost a lot of blood during the surgery. Around that time my mother, Mrs. Sarada Sastry visited Viswamjee in Guntur . Swami spoke to my mother and told her that Anjana was delivering a baby and something unexpected happened there. He also said that he was present there at that time and took care of the situation and everybody is ok now. With Swami's blessings, Anjana and Anup recovered, and were allowed to go home after 14 days in the Intensive Care Unit. Today, Anjana and Anup are very healthy. Thanks to Swami's grace and protection.
Another miracle Viswamjee performed was during my friend's visit from Newyork. He wanted to see downtown Memphis. So, I picked him up from his hotel at 7 pm. I was driving towards Memphis down town but took a wrong exit. In order to get back to the highway, I had to cross some streets. It was pitch dark with no street lights. While I was crossing the streets, a white car came out of nowhere at a very high speed, and crossed our path. The car missed hitting us by a few inches. Had it collided, it would have destroyed both vehicles and the passengers inside. My friend and I were so shocked we couldn't talk for a few minutes.
A few years after this incident happened Sri Viswamjee came to our house in Memphis and mentioned that he saved my life. I was puzzled by what he said because I had forgotten about the car incident long time ago. Viswamjee reminded me of the night when I almost collided with a white car. He asked if I had any doubts about that incident. I said no and immediately realized that Viswamjee performed a miracle and saved my life.
---
January 2010
Om Sri Sai Ram Guru deva data.


My name is kruta. I am swamiji's devotee since my childhood. With whole hearted pranams and complete surrender to swamiji's feet, here I narrate this miraculous experience we had recently.
Our son Arun is 33 months now. On Sept 12th Sat morning around 11am, he was playing in the living room, second floor. I was busy cooking food, when my husband was vacuuming his car downstairs outside my house. Arun trying to call his dad downstairs, climbed up the window, which had the glass door open, and fell off the ground from second floor window. The mesh frame came out and he had a fall from about more than 15 feet height, we heard him cry loud.

Not able to understand the scene, me and my husband were in a panic state. First thing I did was applied him the vibhuti and called swami and explained him all that happened. Swamiji assured that nothing was wrong and Arun fell into Swamijs lap and is safe. Nothing to worry. Swamijis word and blessings relived us from the panic. I was relaxed, and all the pressure and the fear almost went down. However, as suggested by swami, we proceeded with other formalities, called the 911, who took him to the doctor, and was done with the whole body scans and xrays.

Doctors could not believe the fact that nothing major happened after such a big fall, and were proceeding with all their checkups. As suggested by swami, I was continuously chanting the mantra "Om sri sai ram guru deva datta" and "Om sri maha Vishnu swarupaya sri dhanvantari swaroopa sri sri sri aushadachakra narayana swaha" .

Reports came in and one of the reports reveled that he had a tiny hairline fracture in his skull and had a very tiny blood clot, outside his brain. So he was shifted to a Seattle hospital for 24 hour of monitoring. Doctors said that they would be repeating the scan later at night to see if things were improving or worsening, and would proceed with further treatment. I continued chanting the mantra, and were informing aruns condition to swami time to time. Swamiji has reassured that he was meditating for arun and things will improve and said nothing to worry. By swamijis grace, the second scan showed up much improvement, the clot was much smaller, and doctors said that they are comfortable in sending him home and would discharge the next day.

We came home the next day, Arun was fine, but had some swelling on his fore head as he had a crack in the skull bone. He was not able to sleep on that side and was complaining little bit of pain. Fortunately Swamiji visited Seattle, the next day. We took arun to swami for his blessing. I showed his bump and said he was having pain, swami gently rubbed his hand over aruns forehead, and said it will all be alright. That same day we saw his swelling going down, and were very much surprised to see him even sleep on that side that night. Mere touch can cure anything. We are really so fortunate to have such a compassionate Guru.

Next day we went to swami again, when Swami asked Arun on what happened when he fell down, and where did he fall into. Arun replied that he saw Swamiji when he fell down and that he fell into Swamijis lap. We were surprised when he answered so.

Our family and arun are blessed to have such a big incident pass our lifes without any loss or pain only because of Swamijis grace. This is a miraculous event that we will memorize all though our lives and truly once again surrender ourselves at Swamijis feet.

Its not just once that Swami took care of us, its every day, every minute, he is with us. That is what swamiji says. "I was with you, I am with you, I will be with you"

This Feb when we went to India for our brother in laws marriage. Arun became very sick and had to be hospitalized. He was dehydrated and became weak. Swamiji went into meditation for his recovery. Luckly he was out of danger by his grace. Doctors could not understand what went through, and did all sorts of tests suspecting all big things. I was completely depressed to see my son who was less than 2 year old in the hospital, but could come out of it only because of Swamijs grace. Swamiji as a father talked to me saying its our responsibility to take care of kids, and that kids are to be given more importance than attending marriage. The compassionate affection that swamiji had on me that day was just so nice. Now when I remember how swami took me into his lap make me cry out loud with gratitude.

It's not just when we had tough times that he helped us. It's always and also only because of his grace that we achieve anything in our life.

I learnt a lot after these couple incidents we had recently. As people say only though our hard ships and tough times in life that we learn, I understood the truth and gained a lot of confidence in the fact that there is some strong force, Swamis blessings and protection behind us. I learnt that all we need is strong belief and complete surrender to Gurus feet and should never fear for anything as long as we are under that protection.


"Om sri sai ram guru deva datta"
---
May 2009

1. Karthik Modali, York, PA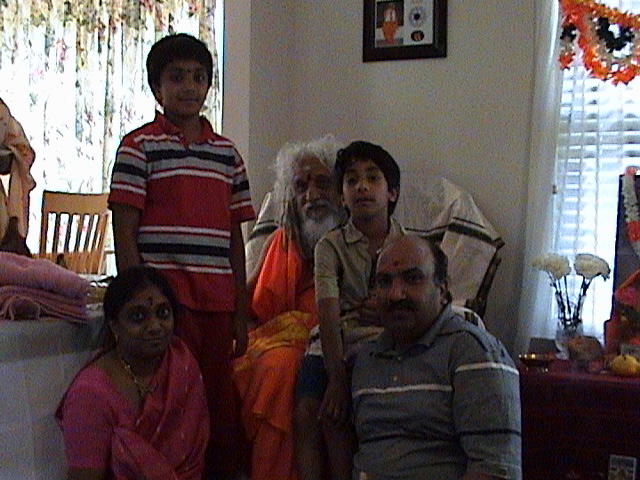 My name is Karthik Modali and I am 13 years old. What I'm about to tell you is the story of why, what and how I got Appendicitis, the surgery and how I recovered after the surgery.
It all started on a Monday morning. It was March 9th, 2009. After I finished eating breakfast, I had a very small pain in my stomach. But, then after I used the bathroom, it went away. I went to school. In school, the pain returned, I was sick to my stomach. The school nurse called my mom to come and pick me up from school, As I couldn't stay there with severe pain and vomiting.
My mother and another friend came and took me home. After coming home, I could not lie down on the bed. The pain in my stomach was getting very sharp. I vomited everything I tried to eat, even my own saliva. My mother applied Swamiji's Vibhoothi on my stomach. I was screaming in pain. I was crying out loud swamiji's name and mantra. The pain would not stop.
I was 4pm in the afternoon. My mother called the doctor and he wanted me to go to the hospital immediately for some tests to be done. The ultra sound, X-rays, blood test were done. But, then Doctor ordered cat scan to be done too. This would confirm the reason for my stomach pain.
While I was going through this pain, My father was in India, visiting his parents and attending Swamiji's birthday celebrations. We did not tell him about this situation.
The test results came back in the middle of the night at 2AM. The doctor confirmed about the appendicitis and it has to be surgically removed. First, my mother called Swamiji and told him about the condition. He personally gave me his blessings for the surgery. This gave me strength and made me strong to counter the pain. The surgery was performed at 6 AM and then I was transferred to the recovery room. All this while, I was chanting "Om Sri Sairam Gurudeva Datta". The most important thing I should not forget all my life during this experience is that though out this process, Swamiji was with us. I saw and felt Swamiji's presence. I saw him right after the surgery and again in my recovery room, he put his hand on my shoulder. When, he put his hand on my shoulder, it was late in the night and it was pitch dark in the room. My mother had stepped out of the room. When she returned, I told her about it. Both of us said our respects and prayers to him. Then every thing went well and I now am back to my normal schedule.
To conclude this episode, Time again and again, like Swamiji always says, I was with you, I am with you and I will be with you. Whether anyone believes it or not, I and our entire family, can never have enough words to explain how we feel about this, except give our love and lives to him and his mission. Thank you Swami Tata( Swami Tata is a loving word to say he is my favorite Grandpa)
---

March 2009
1. Mrs. Sushma Avasarala, Schaumburg, IL
I, Sushma Avasarala, had my first darshan of Guruji in July 2006, at that time I had a feeling that I met a holy person who is far more knowledgeable than normal people like us. My Faith in him got stronger only after the arrival of our son Raghav which was possible only because of Guruji's blessings. Till 9th month of my pregnancy everything was fine and all of us were expecting a normal delivery but in the last week baby rather than coming down started going upwards due to which doctor suggested to have induction (which is normal).
On 29th Aug 2007, evening 4PM I got admitted into the hospital for induction and after 15hrs of labor suddenly we missed the heartbeat of the baby, at around 8AM, of 30th Aug 2007.Luckily at that time nurse was there in the room and she pressed emergency button and in a minute all the doctors were in my room. I was asked to turn to my sides so that by some movement we can make the baby comfortable and get the heartbeat. Luckily after a few seconds they could recover the heart beat but had to go to emergency C-Section as no one knows what happened for loss of heartbeat for few seconds.
And luckily my Doctor who called and said she would come in between 8.30-8.45 to check me arrived early and was in my room as the emergency siren went on. I was taken to the theater and when the doctors operated they said we were really lucky as the baby was having the umbilical cord tied around his neck and there were 2 knots due to which there was no chance for the baby to get out of the tangle. They were themselves surprised how they could manage to get the heartbeat back. Finally it all ended well. We really didn't share this with anyone except to our own parents.
After a year when we met Guruji after this incident, little did we know that it was nothing but his divine grace that is bestowed on us to have the baby. As soon as we met, while addressing us, "he said it was very tough to make this happen". He said, he was there beside me during the entire labor and at the time of crisis he made the heartbeat comeback and made everything possible. I and My Husband (Venu Madhav) just didn't have words to say but just had our eyes filled with tears and were thanking Guruji for everything. It is amazing to see that some one can do so much for us with out expecting anything from us. We really wondered, how he could have known if it isn't for his divine power to guard us and help us.
This clearly shows Guruji is there for you ALL THE TIME to PROTECT YOU, LOVE YOU and GUIDE YOU in the right direction of your life by which you can gain peace and eternity.
---

October 2008

1. Krishnalata and Sanjay Rao Cary, North Carolina.
Om Sri Sairam Guru Deva Datta
Our Humble Pranams to the Lotus feet of BABA
The first time I had Swamijee's Darshan in March 1989 at my parents' home in Hyderabad is etched in my memory. During the Pada pooja, my parents had a vision of Sai Baba, and from then on, everybody in our family addresses Him as BABA, as we believe He is none other than Shirdi Sai and Divinity Himself.
We have had many experiences that are indescribable but here a few.
In 2001, we had gone to Washington D.C for Guru Poornima celebrations in Swamijee's Divine Presence. On our way back, we stopped at FAO Schwartz, the famous Toy store. The store was crowded, so I decided to rest on a bench outside as I was expecting our daughter at that time. After a few minutes, my husband rushed outside with blood all over his face. Apparently, a heavy box fell on his head from a shelf above and narrowly missed our son. We tried to clean the wound, but he was quickly losing a lot of blood. That day being Sunday, not many places were open, but we found an Urgent Care Clinic nearby. The doctors could not believe that this accident had happened, and quickly stitched the wound. My husband started feeling better and soon after we decided to drive back home. When I called Swamijee, He already knew and said that my husband had been averted from a major accident. It is without a doubt that my husband was saved on that day only due to Baba's Grace.
Recently, I was driving to work and the traffic was steady about 70 miles/hour. Suddenly, the cars ahead started braking and swerving to avoid debris on the road and it was going to be a head on collision. At that moment, I panicked and uttered Baba's name, and I felt Him steering my car away 'sideways' onto the median on a strip of grass, and brought my car to a halt. It is to be noted that this section of the highway is narrow with curves and does not have any shoulder except for that small stretch where the car was stopped.
Baba often tells His devotees, "I was with you, I am with you, and I will always be with you". Whenever one thinks of Baba or utters the divine mantra "Om Sri Sairam Guru Deva Datta", He is with you at that moment in some shape or form, which one may or may not realize at that time, but it is nonetheless true. When He is physically present at one place, His presence can be simultaneously felt or seen thousands of miles away. We have witnessed many miracles that can have no rational explanation.
We will be forever indebted to Baba and hope to be always in His Divine Service.
2. Ravi & Radhika Kolli Valparaiso, IN
Om Sri Sai Ram Gurudeva Datta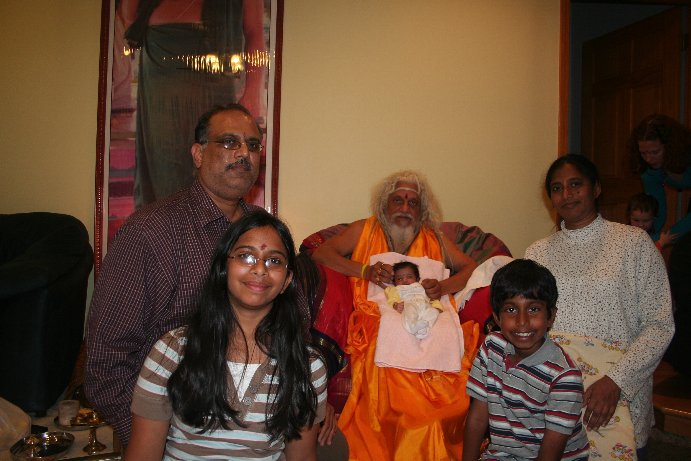 We (Ravi & Radhika Kolli) are fortunate and blessed to have the divine blessings of His Holiness Bhagwan Sri Sri Sri Viswayogi Viswamjee Maharaj. Since last year our experiences have taught us that we were fortunate to have his blessings and guidance under many circumstances. We have completely surrendered at his divine feet. Swamiji has time and again assured that he is with us all the time. The experience we are going to describe below completely demonstrates that when you completely trust and surrender yourselves to his divine feet, we can overcome any obstacle with ease.
Swamiji has blessed us with a new baby girl born on October 11, 2008 and named her Srikari. Radhika had a normal delivery and was later shifted to postpartum room. Srikari was delivered on early hours of Saturday (October 11) at 1.42 a.m. and we were ready to bring home Srikari on Sunday (October 12) evening. I went home to make arrangements for Srikari's arrival and take care of other miscellaneous things.
I have returned to hospital along with our children (Rachana, Jayaker) and co-brother at 3.30 p.m. We were making arrangements for departure, when my wife said that she has dropped Srikari accidentally a little while ago, I was totally shocked and dumbfounded. She has told us that after feeding Srikari, she tried to burp her and fell asleep and eventually this has caused Srikari to fall on the wooden floor in the post partum room. We did not know the extent of injury to Srikari initially.
When I heard this shocking news, my first instinct was to call Swamiji and ask for his blessings and guidance through this ordeal. Immediately I have contacted Swamiji and informed him about the accident. He has advised us to get an x-ray and break a coconut outside the hospital. The pediatrician at the hospital did not think x-ray was necessary as Srikari was doing fine.
Later on my wife has discovered that Srikari's head has developed swelling and crepitus. We were even more worried. Then pediatrician ordered a stat x-ray which revealed that Srikari has sustained a fracture to the parietal bone. As soon I broke the coconut outside the hospital, we noticed that the swelling started decreasing. I have contacted Swamiji to appraise the situation, when he assured us that everything will be fine and Srikari has fell into his lap.
Next day morning Srikari had a CT scan done, which has revealed that she had a extradural hematoma. Neonatalogist and pediatric neurologist were consulted for their opinion. We were worried that Srikari might be kept under overnight observation. Swamiji has assured us all the way in this ordeal, that everything will be fine. Later on all the physicians cleared Srikari to go home that evening.
Swamiji has pulled us through this tough ordeal, and took care of our new born. But the most amazing thing in the whole ordeal was, Srikari never cried with pain because of the fracture. It is a miracle that we have escaped the whole ordeal with ease because of Swamiji's blessing and guidance.
We offer our salutations and humbled by the whole experience.
---
July 2008

By Prashanti Ellore
OM SRI SAI RAM GURU DEVA DATTA
With the divine blessings of a Guru, we can achieve anything. The incidents which have taken place in our lives are some of them. When Swamiji visited our apartment in Chicago in 2001, He asked us to buy a house. My parents-in-law, who were in Chicago at that time, asked Swamiji as to when we will be blessed with children. Swamiji then told us that a baby boy, Sai Sridhar will be born. Later, I became pregnant but had had two miscarriages. All of us were dissappointed but did not lose our heart. I started reading the Viswa Guru Charitra and came across many instances where children were born with the blessings of Swamiji. We moved to our new house and very soon I became pregnant and were blessed with a baby boy, Venkata SaiSridhar Akarsh. Throughout the pregnancy, whenever we had a problem, we used to call swamiji. He would ask us what the problem was, provide a remedy and then the problem would dissappear by itself. The doctor would also give the same remedies that were suggested by Swamiji. After two years, I became pregnant. This time, both my parents and parents-in-law couldn't come for the delivery. Only by chanting the mantra "Om Sri Sai Ram Guru Deva Datta", I got the strength to face all the difficulties and were blessed with a baby girl, Venkata Lakshmi Meghana. We are very fortunate to have Swamiji as our Guru.
---
February 2008
Rebirth!

(Chandra Deval, Minneapolis, USA)

Om Sri Sairam Guru Deva Datta

I pray to the lotus feet of Bhagawan Sri Sri Sri Viswayogi Viswamji to help me narrate my rebirth" incident from July 2007. It is the sheer benevolence and compassion of Sai Viswa Maata who brought me back to life again. Whatever karmic debts had to be paid or why would the Lord show so much mercy on an insignificant person like me is only known to the Sadguru.

It was on June 23rd 2007 when I had returned to US after a month long trip to India with my wife (Uma) and daughter (Nikita) who stayed back in Hyderabad planning to return later. We came to know that Viswamji was embarking on a journey to USA on 18th June or so. While we were happy and hoping to have his divine darshan (with his sacred feet stepping into our home in US sometime later), we were also unhappy for not having his darshan in India.

Just after 2 weeks upon my arrival, I fell sick on July 8th (Sunday). It started as a fever with temperature fluctuating from 101 to 104. Although I thought it was a viral, on Monday late night, I felt some pain in my abdomen which intensified next day. Next day, Uma knowing my situation took doctor's appointment and urged Sai brother Srinivas to take me to the clinic. Little did I know that I will not return home soon?

After the initial tests at the clinic they declared that I was dehydrating with my BP going low. While they gave some juice and water to drink, they referred me to visit the North Western Abbott Hospital for a CT scan as they suspected it could be an appendix problem. I was thinking that this will be a small procedure to be cleared and did not expect any major problem. After the scan, with pain intensifying, I was sent to the ER around midnight by which time Uma and others knew that I was in the hospital. Doctors were monitoring my vitals and also getting ready for surgery even though they ruled out appendicitis. I was constantly chanting "Om Sri Sairam Guru Deva Datta", to take my mind off the situation. Subsequently when Uma had called Viswamji, he assured her that they (Doctors) will not find anything in the tests.

The saga continued for 2 days as I was moved to the ICU with puzzling and negative test results with growing confusion for doctors. At that time, I started realizing that now my time was up probably. I was constantly chanting Viswamji's name and also Sai Gayathri. I was hoping that I would have Swami's name on my lips if I have to leave this world. Friends and devotees of all faiths were around me who brought photographs of Baba & Viswamji around me with all chanting prayers, playing & singing bhajans. As the situation was worsening, I had also developed breathing problems fighting for life. It was only Thursday evening when I had that sense of surrender to the Lord, within minutes, there appeared a doctor and a technician who decided to put me to sedation and on a ventilator. I was told later that all around me had panicked and lost hopes on me calling Uma and Nikita to return soon from Hyderabad.

With my sinking situation, when Uma had called Viswamji, he made a mysterious and a most profound statement: "Chandra and I had a lot of free time, so we went to the other world and had come back". He gave Uma and Nikita all the strength to travel to US the same day removing every hurdle (from getting the tickets until arrival at Minneapolis). It is Saibaba who is available to us as Viswamji with an access by phone to help as a "Deenabandhava". After 3 days being on ventilator, with the blessings of Sadguru, there were signs of improvement in me miraculously with medications and IV fluids given incessantly in-spite of lack of clear diagnosis. Sri Viswamji would send his devotees to visit me and report my condition on a daily basis to him. With super compassion he has taken my pain and affliction on him while he was visiting Washington D.C and Florida. His devotees around him were astonished and worried due to his constant meditation and being in closed doors while healing me without giving darshan. He would talk to all here as though he was in front of me watching my every move. That truly justifies his statement: "I was with you, I am with you and I will be with you". It seems it took many hours and few days for Swamiji to clear my water that got accumulated in my lungs and infection in other organs. While doctors would not know what to call my situation and speculating it as Septic Shock, Colitis or Cellulites, I only know that it was his test followed with his divine grace. I have no clue why I would deserve his immeasurable love.

On the last day recovering from a 10 day intense stay at the hospital, I had called Swamiji with nothing to offer but just tears. While I wept like a baby on the phone, Swamiji knew my state of health and mind. He had cheered me up and consoled me like a mother. Thanks to him, I was able to attend Guru Poornima bhajans, sing a bhajan and also heard his divine discourse. While recovering at home, I could not wait to see him. It was after 2 months when Swamiji visited us in Minneapolis, I had the fortune of driving him from the airport to our home in the car with the divine master as my navigator. I had a bottleneck of feelings and kept mute. It was a silent talk between us and I had not known of any other way except tears on how to express my gratitude to my life saver, the Dattatreya incarnate. We have a whole new perspective of his divinity after this event. This was an eye opener not only for us, but a real life lesson to all around us. The final moment can be any time for any one with no warning! Let us all wake up to his message!

How can I ever thank you, O Guru Deva!

Om Sri Sairam Guru Deva Datta!

Swamiji gives second life to my husband and our family
By : Mrs. Roomni Das Gupta , Minneapolis
OM SRI SAIRAM GURUDEVA DATTA
In August of 2007, my husband came down with what we thought was stomach flu. The usual medications did not work, and we went to see a specialist. A battery of tests was conducted and we found that he was down with a severe liver ailment for which hospitalization was imminent.
My husband was admitted to the Regions Hospital in Minnesota, and we found that his blood had become very thin due to the liver ailment, and his liver function test results were 20 times higher than normal. Doctors were extremely concerned. Our family was numb with shock and fear. At that time, what I could do was to pray for my husband's well being to the only living God on earth Swamiji, who had been our Guruji for more than 6 years.
Swamiji was touring the US at that time, and at first I could not contact him directly. So I contacted Narayana Murthy -Swamiji's devotee and a good friend of ours, to communicate the situation. Swamiji listened and He said that everything will be OK. He went into an intense meditation. He broke a coconut on the 4th of September which triggered off a chain of events. On that very day my husband was transferred to the University of Minnesota hospital that has one of the best liver treatments in the US. The doctors immediately got to work over there, giving him blood transfusions to reduce the blood thinning. My husband prayed to Swamiji during whatever moments he had, and he saw Swamiji right in front of his eyes sitting on a sofa, just prior to being carried downstairs for a liver biopsy. I did not know this, and when I talked to Swamiji for help, He said that He was there in the room all this time, watching over my husband.
The biopsy results showed that the liver was badly damaged and doctors started my husband on a high dosage of medication. The medication started working and the reason we learnt later on was because Swamiji had purified my husband's blood. When I called Swamiji again, He said that He knew this and asked us to follow the doctor's advice. He said there was nothing to fear any more. After a week, my husband returned home and the recovery period took more than 2 months. During that period, Swamiji came to Minnesota and we visited him and He said that "I am your Mother, I am your Father, I am your Navigator, I am your Guide, I am your Scavenger, I am your Guru, I will always be with you".
Swamiji gave my husband and our family a second life, which I cannot express adequately in words. Had it not been for Him, my husband would not have recovered, since the doctors also were very puzzled. Today 5 months after the incident, my husband is living a normal life, his liver function results are all normal, and he has been able to get back to work. Swamiji is really the embodiment of God on earth, and we consider ourselves blessed that he has touched our lives.
OM SRI SAIRAM GURUDEVA DATTA
---

June 2007

My Unforgetable Experience with Sri Viswamjee Maharaj
			By
Smt Madhavapeddi Subbalakshmi Murthy, Dallas U.S.A.
  (Retd Head Mistress, C.M.H.School, Vijayawada)

I had my first darshan of Sri Viswayogi Viswamjee Maharaj, at Guntur in 1988. It did not have much impact on me, except for the feeling that I have seen yet another Holy person.My devotion and faith in Him, got firmly established, when Sri Viswamjee saved in the year 1990 my husband, Sri Satyanarayana Murthy, from a severe health problem, arising after his spinal cord surgery.I could see in Sri Viswaji,our own Sadguru, Sri Kalyananand Tirtha Swamiji Maharaj, Hardwar to whom we were attached for over three decades earlier.Please see the experience narrated by my husband,appearing in this series on "Devotee's Experiences", appearing elsewhere.

In September 1999, I underwent a health check up, in connection with taking a Medical Insurance policy in U.S.A.This included Papsmear and mammogram tests also.To our shock, the papsmear test result showed "Carcinoma iii grade, while the mammogram test result, showed a lump in the breast, requiring further investigation.The scare and anxiety made me, immediately contact Sri Viswamjee on phone, who after listening to my S.O.S.prayer,kept silent for a few seconds and calmly uttered the assuring words,"Malli tests cheinchuko; Emee undadu"!(meaning go thro' the tests again and there won't be any such thing!). This gave me the much needed solace and courage.

Our children, accordingly took me to Dr Mrs Raj kakarla, Desoto in Dallas Metro and she conducted a clock biopsy test. This test result, to our great relief showed that the cells were not yet malignant and the diagnosis was given as "Moderate displacia" a significant improvement seen within just 3 weeks! The lady doctor suggested that she would conduct a Cone Biopsy, which enables a more reliable investigation and also a remedy. She carried out the same and this test revealed that the diagnosis was only "Minor displacia"! This obviously was even better!

Then, we returned to India and consulted Dr Mrs Challa Savithri, Guntur who is a famous Gynacolagist and she continued the tests regularly every month and the diagnosis revealed no further change. However, she advised me to undergo hystorectomy, so as to completely eliminate any suspicion and remain free from anxiety in this regard. Accordingly, with the Divine blessings of Sri Viswamjee Maharaj I successfully underwent the hystorectomy surgery, by her at the Nightingale Nursing Home, Guntur and Sri Viswamjee told me, He was present in the Operation Theater, to ensure its full success! The biopsy report was "Clear and Normal"!

Thus, Sri Viswamjee Maharaj completely eliminated the "Cervical Cancer Scare" and restored me to full and normal health! He is our dear Sad Guru, Father, Mother and God, Lord Dattatreya Incarnate and has been and will be taking care of us and our family members at all times!

My humble pranamams at the Lotus feet of Sadguru Sri Sri Sri Viswayogi Viswamjee Maharaj! Loka Samastah Sukhino Bhavanthu!!!
---
December 2006
Ramya Panuganty, Hyderabad

Om Sree Sairam Gurudeva Datta Lost & Found

It was a cool evening. My dad, mom and I were ascending the peaceful and sacred hills of Tirumala on bus. On either side of the narrow road there was immense amount of greenery, and powerful lights which reflected signs stating drive slow, avoid overtaking and most often blind turn ahead keep left. My mom was enjoying the cool breeze from the window side and my dad was telling me the story of LORD VENKATESHWARA, to which I was listening to intently and with enthusiasm. My mom suddenly saw the temple lights from a distance and indicated to us to see them too. The temple looked beautiful when lit; its white surface was more visible than ever under the bright lights. Slowly but steadily we reached the top of the hills. There was a bus stop established on the hills with other basic amenities required by the pilgrims like hotels, shopping complexes, etc. We departed from the bus stop at around 5:30 pm in the evening. Though it was just five, the place was quite dark and very cold. There was a building where all the pilgrims brought their tickets to get accommodations in hotels. We got our reservations in an inn called RAM BAGICHA. We hired a jeep which was the common means of transport used there, to reach the inn. Once there we removed our luggage carelessly and quickly, as we wanted to freshen up have an early dinner as we were tired after the journey.

My dad spoke with the manager and we were given the room. Mom and I were the first to go into the room and dad came after about ten minutes. I was lazing around when my mom called for me (again); I went into the restroom to freshen up. We were just leaving when my dad reminded my mom to get her purse as he did not keep too much money in his wallet. Mom nodded and went back to get it, as dad and I waited outside. She returned back empty handed and with a panic stricken face. I was anxious to know what was wrong, just like my dad. She then told us that she could not find her purse. My dad went back to the room to check thoroughly, while my mom stood shocked. She just stood in the centre of the room frustrated, while dad and I hunted for the purse. I had an expression of horror on my face because my mom kept all the money required for the trip which was about five thousand rupees and a packet containing our tickets for the darshan (to see god) and even our return tickets. All I was doing was, looking all around the room for a few seconds I was numb because my mom kept repeating the same words over and over again "the darshan tickets are in it and so is all the money required". She did not realize the fact that she herself was not getting frustrated but was making us anxious too. I kept thinking of our SWAMIJI whose name was the only one I kept thinking of then. I kept telling myself that it's going to be okay and he would help us from this fix.

My dad went out and told the manager about our problem. The manager suggested that we go to the police station and file a complaint. The word "police station" ran a chill down my spine, as I had never been to one before and never wanted to go to one either. But nevertheless we went in desperation. All the time I kept thinking of where the purse could be and how we would find it. When we reached the police station the officer was sitting on the chair, he offered us a seat to sit. My dad told him about the purse and the valuables it contained. The officer seemed relaxed unlike us who were sweating ourselves out. He asked us the most likely question to which we did not have a clue, "where did you last remember keeping the purse?" We told him about our journey and my mom assured the man that she did not leave the purse in the bus. It seemed like it dawned on all of us that we definitely left it in the jeep which we boarded from the reservation office to the inn. The officer asked us the jeep number to track the vehicle. But we were negligent and did not note the number. But we assured the officer that we can recognize the driver and we could give a description of the vehicle.

The officer who was quite bulky and tall set out with us to hunt for the jeep. Deep in the corner of my mind I knew that if we don't find the jeep which had very slim chances we are never going to get back the purse, I would not be able to see god, but I tried to keep the faith. I kept fidgeting with the yellow thread Swamiji had once given to me while my dad and the officer were just discussing how many jeeps could be here and how many could we search. Just then my eyes fell upon a jeep with the same color of maroon for the seats we were looking for. My dad, the officer and I ran to halt the jeep which I and my mom both had seen. Yes! It was the same jeep. There were no bounds to my happiness; my dad quickly came up to the back seat where my mom was sitting. But alas! There was nothing there. We all looked for it thoroughly. But neither one of us found it. The officer then asked the driver many questions, he asked the driver if he had taken the purse and asked him to give it back or he would have to take it back in the hard way. The driver said he was innocent but at that point of time all my parents and I wanted was the purse and we were ready to believe that the driver had stolen it if that was the way we could get the purse back. Right then the officer asked whom he had dropped after us. While the officer was interrogating the driver I was busy in my own thoughts. I think thoughts would not be the appropriate word to use as I was a nervous wreck who was praying continuously. Now that we found the jeep I had at least a little hope that we would find the purse.

The officer found out from the driver that three people got into the vehicle after us and had seen the purse. One of the women out of the three asked the driver whose purse that was when the driver turned to see the purse the other lady nudged at her counterpart then there was silence. This seemed to make us suspicious about the people who got in after us. But the officer also suggested that we cannot trust the driver, as he could make up stories. We were in a complete fix and were so puzzled that we did not know what to do. Then the officer asked the driver to take us to the place where he dropped the other passengers after us whom he alleged of taking the purse. He took us to the VARAHASWAMI temple. The officer and the driver went on searching for "those" people who had the purse. We searched for a long time but without any results. When we had all lost hope and were just going to sit in the jeep my dads mobile rang. It was my grandmother; she asked my dad if we had lost the purse. I was shocked! How in the world did my grandma know? More questions were arising in my mind when dad hung up on the phone. He spoke in relief that the people who had seen the purse had called my grandma in Hyderabad and asked her to give them my dad's mobile number. My grandma not knowing the number asked my uncle who provided her with it. They said they would call her after sometime till she found the number. We all sighed in relief. I knew that the people who called all the way to Hyderabad would definitely hand over the purse to us.

A few minutes later dad's mobile rang we all heard him converse intently. He hung up and told us that our destination was RAM BAGICHA. This was all the more mysterious; we were living in the same place! Dad said that their room number was 506. Dad, mom, the officer, driver and me; all of us rushed to the room. We knocked at the door and an old lady fair and tall peeped out. Looking at our anxious faces she promptly recognized who we were and why we were there. She smiled and invited us in and gave us the dear purse which my mom clung onto with all her life. Inside we realized that there was another man and a young girl. She introduced herself as Mrs.GYANAMBA and told us that she was an advocate. She told us how she found the purse lying on the seat and advised her daughter (the young girl) not to tell the driver as they could not trust him if would return it back to us. I knew that she being an advocate knew law inside out. I was so grateful that the purse went into safe hands. She told us that she had hunted the bag if she would get any phone number leading to us and sure enough she found a tailors card on which our landline number was written. We thanked them as much as we could and also invited them for breakfast the next morning. Then we departed and went to have our dinner.

For me this was a MIRACLE because so many people lose so many different things everyday. But we were one of the few people who found our lost valuables. My dad, mom and I all agreed that it was purely GOD'S and SWAMIJI's grace.

All I can say is that Truth and Good still do prevail. Good is still alive in the world and God always shows his presence in these small miracles which we cover with a thick blanket called sheer luck.
---
October 2006
Sri Satyanarayana Murthy Madhavapeddi
(Retired Chief Engineer, A.P. Irrigation Dept, now in Dallas, U.S.A.)

Om Sree Sairam Gurudeva Datta Sri Viswamjee Maharaj gave me a renewed Life!

In the year 1990, I was experiencing severe nerve pain from waist to foot in my right leg. Medical investigations by specialist doctors, whom I consulted in Guntur, Chennai and Hyderabad, revealed that there was disc prolapse in my spinal chord between L4-L5 and I was advised to undergo necessary surgery for relief. I underwent the surgery in the NIMS, Hyderabad and after about a week in the hospital, I was discharged after which I returned to my place in Vijayawada. But soon after, I had an attack of fever accompanied by acute pain in the back and legs. My local family physician treated me for about two weeks, without much relief, after which he spoke to the surgeon in NIMS, Hyderabad on phone and advised me to go back to Hyderabad for re-examination by the surgeon. The further examination revealed that the fever and pains were due to the operated spot getting infected, for some reason. The surgeon prescribed expensive anti-biotic capsules to be taken by me for four weeks assuring that I would get relief. I came back to Vijayawada and started taking the treatment as prescribed. But even with this, my health condition did not improve. On the other hand, I found it very difficult even to get up and go to the near by bath room. It was at this stage, my elder brother, Sri Madhavapeddi Radhakrishna Murthy Advocate, Guntur, contacted and explained my medical condition to his Guru Sri Viswayogi Viswamjee Maharaj, Viswa Mandiram, Guntur and sought His Divine intervention, to pull me out of my acute distress and pain. Sri Viswamjee Maharaj, believed to be an Avathar of Sri Dattatreya, came to see me along with my brother, Smt. Akula Eswari and other devotees from Guntur. My wife and I have been devotees of Lord Dattatreya, over the past three decades, with blessings of our Sadguru Sri Kalyananand Tirtha Swamiji Maharaj, Hardwar. Our Sadguru, being in ripe old age, had not been able to visit us in recent times.

When Sri Viswmjee Maharaj came thus to our home from Guntur, my wife and I felt that our own Sadguru came to us in this form to bless us! Sri Viswamjee Maharaj showered His infinite compassion and Grace, sat by my side on the bed and gently moved His hand over my back near the operated region.

With His Divine blessings, we again went to Hyderabad and consulted Sri S. Bala Parameswara Rao, retired Superintendent of NIMS and an expert Consulting Neuro Surgeon Hyderabad under whose care, I fully recovered from the serious illness that plagued me, for so long. We are ever grateful to Sri Viswamjee Maharaj, who thus granted me a renewed Life thro' His Divine Grace, activating an expert Neuro-Surgeon, to pull me back from crisis! Of course,it may be needless to say, that since then, Sri Viswamjee Maharaj took us into His fold and has been our protector, all through, at all times!

By: Srikanth Muthyala, El Paso,Texas.


Om Sri Sairam Gurudeva Datta

Anekakoti Saashtaanga Pranamams to Sri Sri Sri Viswaguru Viswamjee Maharaj!

With Divine blessings of Swamiji, I Srikanth Muthyala, El Paso, TX. humbly venture to share my divine experiences, thoughts and impressions.

As always Sri Swamiji says these three Divine Lines I was with you. I am with You. I will be with you

This is indeed true and we have always felt His divine presence in our every day life. There are number of life saving miracles experienced by us .We can even write a very big book about the experiences our family felt thru Swamiji.

On number of occasions Sri Swamiji saved lives of our family members even though we live across the globe far away from him. I am writing one of the experiences about how Swamiji saved our son Sai Deepak on October 14th 2004. This incident happened when we were living in Qatar.

Telugu Association Of Qatar was conducting the food festival in one of the club houses of an Apartment complex .Club house is located very next to the 9 feet deep large swimming pool. When I saw the pool, I felt really scared because all the kids were playing around it and also all the parents were very busy in program arrangements in the club house. I volunteered my self, asked all the kids to move away from the pool and play near by play area. No one was swimming in the pool and time was around 7:30 PM. I made sure all the kids moved away from the pool including my son. I and my wife were also busy arranging the things for the party and also I was taking care of my one year old daughter. My wife was worried about our son; I assured her not to worry about him since he is playing in the play area far away from the pool.

During this time I and my wife heard a child crying very loudly, we turned back stunned to see our kid drenched with water completely from head to toe. He was running towards us crying loudly. When we asked him what happened he told us that one of the children pushed him in to the pool in the 9 ft depth area .Next we asked him in panic how did he manage to come from 9ft depth of water from the pool, since it is highly impossible for a four year old kid with no knowledge of swimming and also no person swimming or standing around the pool. We were stunned to hear His reply, he said, that Swamiji had brought him up to ground from the deep water by placing him on Swamiji's back. We cried and prayed to Swamiji and we called him, he confirmed the same saying that he was there along with us and saved our son.

Swamiji once again blessed us with His Three Golden lines I was with you. I am with You. I will be with you

We believe that nothing is impossible for Swamiji. He always protects us and thinks of our well being in every day of our lives in spite of us remembering him or not.

---

September 2006

By: Ramana Madhavapeddi, Dallas, Texas.


Om Sri Sairam Gurudeva Datta

One morning in the last week of September 2001, my wife Jyotsna got a phone call from our son Ujwal's school, Miller Elementary in Richardson, TX. Ujwal was in 2nd grade. We were told that he collided with another student while playing in the school playground during the morning recess time. They said he was acting somewhat disoriented and had been taken to the nurse's room for observation for the last 30 minutes or so. Jyotsna immediately called me at my workplace and we anxiously rushed to the school hoping it would turn out to be just a minor injury. But when we reached the school, we were absolutely stunned to see how bad his condition was. He was writhing in pain and his condition started getting rapidly worse. He lost his memory and could not even recognize his own parents or know who or where he was. An ambulance had just arrived and the medics started attending to him. Jyotsna and I were naturally extremely worried. As Ujwal's condition began to deteriorate further, a 'Care Flight' helicopter was summoned and he was airlifted to the Children's Medical Center near downtown Dallas for emergency evaluation and treatment. Since there was no room in the helicopter except for the patient and the medics, Jyotsna and I were asked to drive to the hospital. As the helicopter started rising on its way to the hospital, both Jyotsna and I were extremely anxious. We were praying to Bhagawan Sri Satya Sai Baba and Viswayogi Sri Viswamjee Maharaj to come to our aid during this moment of great need. We could not bear to see our dear son being in so much pain, and we began our drive to the hospital with a heavy heart. Nevertheless, we remained stoic with the conviction that God would see us through this crisis. I called my parents, who were at home at the time, to tell them of the situation. They too started praying. My mother picked up the phone right away and called Sri Viswamjee to seek his divine blessings. Sri Viswamjee in his ever-loving manner conveyed his blessings and assured my mother over the phone that everything would be all right. While driving to the hospital, we contacted my niece, who worked at UT Southwestern at that time, and requested her to go to the Children's Medical Center (which was close to UT Southwestern) and be by Ujwal's side until we reached there. She immediately went there and was with Ujwal in the emergency room along with the doctor and nurses who were attending to him. We arrived at the hospital shortly after that. After some time, Ujwal was taken to the Radiology Department and a CAT scan was taken. By Divine grace, it showed everything was normal in his brain. However, he was still not improving and for several hours could not regain his memory. As each hour passed, our anxiety increased. My sister and brother-in-law visited us around 8:30 PM in the evening. Ujwal started improving just minutes before they arrived. He began to recognize his mother. My sister and brother-in-law brought holy vibhuti with them which we began applying to Ujwal's head. We all started praying to Baba and Viswamjee and miraculously, within a matter of few minutes, Ujwal began showing tremendous improvement. Within an hour, he was back to normal! He stayed at the hospital through the next evening for observation, but everything turned out just fine by Divine grace and we returned home happy and relieved.

Bhagawan Baba and Sri Viswamjee Maharaj (Whom we revere as just two forms of the same Divinity) listened to our prayers and came to our rescue in our hour of need when our son Ujwal was injured. We are as always thankful for their ever present love and compassion. We offer our humble pranams and pray to them seeking their divine protection always.

By: Vidyanand Desibhatla, Texas.


I have been experiencing shoulder trauma for about 3 months. A couple of weeks back, I was referred to an Orthopedic surgeon by my good friend who had been lovingly treating me for further examination. At first I thought it was a rotator-cuff tear. The surgeon found a mass near the shoulder blade which was apparently visible when I pushed back my hand against the wall. So, he sent me for an MRI. Before the MRI was taken, I talked to Swamiji about the entire incident. Swamiji assured me that everything would be fine and told me to do some exercises & recommended water treatment & application of vibhuthi to the affected area three times a day. Yesterday I had the MRI taken (it took about 40 to 45 minutes). This morning (Jun 1st 2006) , I visited the orthopedic surgeon with the MRI films. The surgeon examined the MRIs and determined that there were no abnormalities. He said that he could not find the mass in the place he saw before. I immediately called Swamiji and told him the good news. Swamiji assured me that the pain will eventually go away too. I take this as a miracle that took place in my life. I wanted to share this with all of you. I have very little pain and I don't even remember that I had a shoulder anomaly. Thanks to Swamiji for the cure.

---

July 2006

By: Rajesh C.V


Guru Brahma Guru Vishnu Guru Devo Maheshwara
Guru Sakshat Para Brahma Tasmaitsree Guruve Namaha

If anyone has any doubt if miracles happen, then after reading the following incident maybe convinced that miracles do happen. (At least we are totally convinced that miracles do happen)

Our beloved Guruji Sri Sri Sri Bhagwan Viswayogi Viswamjee Maharaj always says "I am always with you and my blessings are always with you and your family"

Shirdi Sai says "Though I be no more in flesh and blood, I shall ever protect My devotees."

We (me, my wife and two kids) were winding up our vacation and on our way to airport (Columbus, OH) to head back home (Dallas, TX). It was 8:30 AM in the morning on July 4th 2006. It was raining heavily. We were about 3 or 4 miles away from airport. My brother (Vinay) was dropping us at the airport in his Jeep (SUV). My brother was maintaining (or even slower than) speed limit. Since we were getting nearer to airport exit, he decided to change lanes in advance so we do not have to make sudden lane change at the last minute.

In the process of changing lanes, SUV got totally out of control, skidded and hit the side guardrail. The vehicle spun 4 times and kept on hitting the guardrail. All this happened within few seconds. While in the process of spinning my wife Hyma shouted "Om Sri Sairam Guru Deva Datta". Second time she uttered sacred mantra, the vehicle came to a dead stop. We were in total shock. None of us got injured, neither did airbags come out, nor was there any vehicle anywhere near. Had there been any vehicle following us, I cannot (and do not want to) imagine what would have been our fate. My daughter, Subha (5yrs) asked what had happened, and we told her that Guru Garu did magic, that's all, not to alarm her. We were trying to control our emotions so that the kids would not be alarmed. Then my son Mihir (3yrs) said "Gugu Garu stop car".

We continued our journey to the airport, as if we had stopped at a red light and got green signal to go. We reached airport safely. Only damage to the SUV was the driver side lamp and radiator grill. Not a single scratch on both sides even though the vehicle-hit guardrail 4 times. We tried to call our beloved Guruji immediately but could not get to talk to him. After we checked in for the flight and cleared security etc, Hyma called Guruji, the first words Swamiji said "I know your car got hit thrice" No worries, I am there to protect you always. Later Swamiji said to me "I know you are all in shock, there is no need for any shock or shake when I am with you". Later we happened to speak to Venu garu, in CA and told him of our experience. Swamiji was staying at Mr. Venkatramana's residence at that time. Venu told us that at about the same time (about 5:45AM- 6 AM PST) when he went into Swamiji's room, Swamiji stood up and losing stability in walking(as if about to fall), after meditation/trance, told him that some one has slipped but they are all fine now, and went back to his room. It was the about same time, we had our incident.

Later that night, when I was talking to my brother, he said he got a feeling that someone was holding the vehicle from rolling over. Had the vehicle rolled over or if there another vehicle behind us, it might have ended up as a catastrophic event. We are all so thankful to the Supreme Power who saved us.

Om Sri Sai Ram Gurudeva Datta

By: Joey Givan.


For an entry level college course on religion my assignment was to identify a Hindu community and interview its members on their beliefs and practices or if possible to observe them. The latter would be most difficult since I resided in the sparsely populated state of Montana. I could not find any practicing Hindus even in the largest city where I stayed, so I headed to the internet.

While visiting various websites I was extremely fortunate to come across the phenomenal site of viswaguru.com. Right away a spark of life was stirred in me by the profound teachings. Unlike so many I had searched before this website made me feel like something great was going to come from my efforts. However long it took to take in every bit of information available I was dedicated to putting forth the will with all my heart. Diving in further it became apparent what a wealth of resources was being offered.

After being encouraged so much by the teachings I needed to study the master. I think a powerful presence and grace can be had from any photo of our guru. Having scanned several photos from various functions, I literally stopped everything that I was doing when I saw this particular picture. It seemed that anything I wanted could be had by decoding this one image, which was really happening right there. A simple close-up view showing the eyes serenely closed and completely focused on the infinite. This enchanting and forceful gesture had me absorbed by the thought, "What is he doing right there in that particular moment, or more simply what is he thinking right now?" Immediately I heard a voice from within saying "Talk to me... tell me anything you want." How glorious, he could hear me and was listening at this very moment, in the purest sense!

I tried to "talk back to" from wherever this inner voice came, and was instantly comforted, realizing that there is no barrier between myself and Sri Viswayogi. The master told me he is always near and able to listen. I know the process of connecting is found in your heart. This is the one true language-the language of the heart. It doesn't speak from the mouth, but rings out from the mightiest depths of the soul.

Later on I telephoned and consequently met the guru while on his US visit. The assignment proved quite successful I must say especially after discussing devotional exercises with Madhuri Akula.

A follow up to that story as three years have passed now… Having spent some time with Sri Viswayogi's genius of mind I realize he is engaging the world and shaping it through this same connection as mine. I think it starts with strong individuals. The relationship of the soul is so pure that when Masterji communicates, by divine fact, he should fill the world with his voice. This sacred relation is perfect in every moment of its existence. Is this any different when one is sitting at the feet of Sri Viswayogi? Anyone can truly perceive his sweet resonance and emanating rays. If we follow this power and truth it will bring us peace at last. My perception of Sri Masterji is as much a verity as the sun- he is everywhere. Thankfully the Divine call continues Father.
June 2006
By: Malathi Jandhyala, Pullman, WA.


What can I say about this great being that entered into our lives? I am not sure what we did in our past lives, but I know that we have not done anything exceptional in this life to deserve his grace. However, He showers it anyway without any conditions. I came to know about Swami through our friend Meenakshi. For quite some time, I had a great desire to see him and that got fulfilled during one of my trips to India. The moment I saw him, I knew that my beloved Sri Sathya Sai Baba was showering his love to me through Sri Viswamjee. He has showered his grace on our daughter Malica. She had some health problem and it was better for a period of time, but it got aggravated again. One time she was completely in agony and we did not know what to do. I called Sri Viswamjee, and he asked me to call him almost every hour and let him know how Malica was doing. Swami, through his divine will intervened and helped Malica when she was in agony. With his grace, she is doing fine now.

Last year, I lost my father and came back to US in a state of shock and mental pain. My daughter's arangetram was planned soon after my return and I was not in a mental frame to do that function. I never realized that preparations for arangetram were almost equivalent to going through a wedding. When we asked Swami to come to the arangetram program, he agreed immediately without a moment of thought. It turned out that His presence was vital and without his support and constant love, the arangetram function would not have been such a grand success. Prior to the arangetram, we performed padapooja to Sri Viswamjee. During the pooja, Swami gave a rose petal to Malica. As Swami was giving the rose petal I had a visual experience that a dancing figurine was there in the rose petal. Malica did not want to keep the rose petal anywhere out of place, so she simply ate it. Malica had a wonderful dance performance. She felt as though she was dancing for the Gods. After the dance was over, when she came home Swami asked her "Emiti, elaga vundi." (How is it?). Malica replied, "Swami, I usually feel terrible body aches after my regular dance practice sessions. But today, surprisingly, I did not feel any pain at all". In response, Swami said "Neeku enduku vuntundi? Neelo vundi nenu dance chesenu. Naaku vollo noppulu." (Why would you have aches? I was in you and danced. I have body aches). She was surprised at what Swami said. Next day morning, my son showed all of us a stunningly unusual picture he took during Malica's performance. It appeared as if Swami was seated in a sitting posture in Malica while she was dancing! As he stated the previous night, he was truly in Malica while she was dancing. When Malica showed the picture to Swami, he said, "I told you that I was dancing in you and you did not believe it." We know from our experiences that Swami's love has no bounds and He is the Mother tortoise that provides sustenance to its babies by thoughts.
January 2006
Experiences of a Humble devotee

By : Dr. Subrahmanyam Ganti, New Jersey



Anekakoti Saashtaanga Pranamams to Sri Sri Sri Viswaguru Viswamjee Maharaj ! With His blessings, I , Subrahmanyam Ganti, humbly venture to share my experiences, thoughts and impressions, since I have had the blessed opportunity to meet Swamiji in July 2001.

I and my wife Kameswari were introduced to Swamiji by her relatives, Mr. & Mrs. Madhavapeddi Sathyanarayana Murthy, who have been His ardent devotees for a long time. We met Swamiji at Philadelphia when He addressed the TANA conference in July 2001. We had only heard about His remarkable divinty and healing powers but never met Him before. We were eager to listen to His Spiritual Discourse and hoped to meet Him after, to obtain His blessings. We had prayed fervently for years to receive the grace of a Guru, and had met Great Saints of our times. We found our prayers were acknowledged finally and the time has come. As we sat there listening to Swamiji's glorious Call for Universal Integration and Peace, and perceived the Divine Spirituality emanating from His presence, we were transported into a trance of pure joy and tears, which cannot be explained in words. We knew He is the Guru we've sought for years. We waited to meet Swamiji personally after the Discourse, for blessings and prasadam. We are grateful to Mr. & Mrs. MSN Murthy for introducing us to Swamiji. It is a turning point in our life. In His presence, we both felt overwhelmed by His love and affection. We felt extremely blessed to receive His Grace, and thought it was a miracle that He who we sought, welcomed us so affectionately into His fold, as a mother would gather her long-lost loved ones.

We invited Swamiji to grace our residence in New Jersey, hoping our request would not be turned down, because there may be many others like us, and also, He may have a very hectic schedule. To our great delight, Swamiji assured that He would most certainly visit us. We found later that He never turned down anyone who sought Him, unlike others. Swamiji did indeed bless our home by His visit and we performed Paadapuja to His Lotus feet.

When He returned to USA in the following summer/fall of 2003, 2004 and 2005, we had the honor of hosting His stay or part of it, in New Jersey. We accompanied Him in New Jersey, along with other ardent devotees, as He went about spreading His Message of Universal Integration, Peace and Love. He addressed public gatherings at Temples, received Paadapujas at many homes and gave audience to devotees seeking fulfilment. It is an unforgettable experience to be with Swamiji constantly, listen to him and be surrounded by the divine vibrations. It is bliss itself. I found answers to my questions, as I listened to Him during the Discourses and at other times, formal and informal, as we accompanied Him in the car from place to place.

My life has changed ever since I met Swamiji. Every word he uttered has a great significance to me. His availability to those who seek Him, whenever they need and call Him, even at His private mobile phone, across the oceans and continents, day or night, is amazing to me. Another unique aspect is His constant assurance that He is always with us and protecting us, that has impressed me deeply. Each time I talked to Him, I felt a divine upliftment of spirit, as one would feel if one were to speak to God Himself. His constant assurances of unconditional love began to alleviate life's fears and anxieties. I began to feel His presence whenever I sought Him in my prayers. Whatever problems I faced, a prayer to Swamiji's Lotus Feet resolved them with apparent ease, seemingly miraculously, even before I ventured to call Him. Circumstances turned unexpectedly favorable. I felt rejuvenated by a surge of positive energy that enabled me to handle difficulties successfully. I have experienced that when I prayed sincerely, He seemed to guide me step by step, through an invisible hand. He once remarked that to reach out to Him in a moment of crisis is like turning on a light switch in darkness and that one should act timely.

My wife Kameswari and I are profoundly grateful to Swamiji for this opportunity to share our thoughts and experiences.

Om Sri Sairam Gurudevadatta
---
With the divine blessings of His Holiness Bhagwan Sri Sri Sri Viswayogi Viswamjee Maharaj, experiences of devotees will be posted every month on the web site. Those interested in sharing their experiences may send e-mail to forviswaguru@hotmail.com and Swamiji's email at viswayogi@hotmail.com.
---