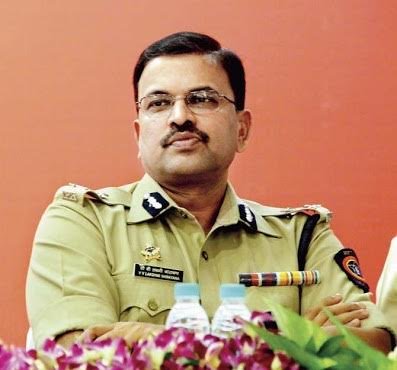 My Divine Blessings to Sri. Lakshmi Narayana Former Joint Director CBI, and currently Additional Director General of Police, Maharastra on being conferred the Presidents Service Medal. Sri Lakshmi Narayana completely abides by the saying "Work is worship and Duty is God. It is my desire that Sri Lakshmi Narayana's should continue to do such service to benefit the society and country, and earn many more such honours and awards. We must all be proud of Sri. V. V. Lakshmi Narayana who is very dedicated and disciplined and the nation needs officers like him. I convey my Divine blessings and wish that in the very near future he should become the Director of CBI, and transform India into "Swachha Bharat".
----- Sri Sri Sri Viswayogi Viswamjee Maharaj.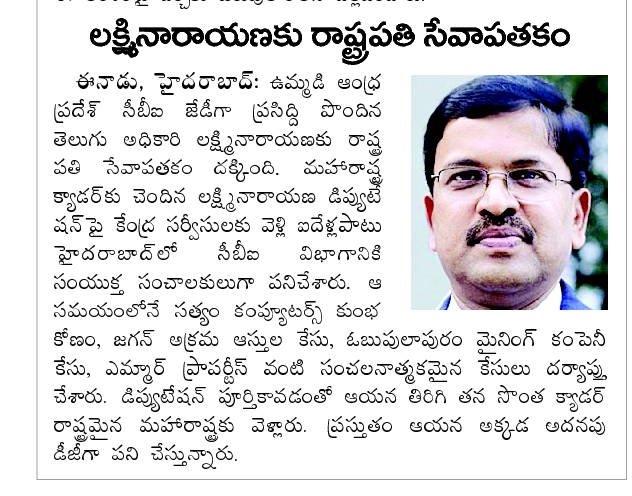 Lakshmi Narayana conferred the Presidents service medal


Sri. Lakshmi Narayana who got fame as the Joint Director, CBI has been honored with the Presidents Service Medal. Sri. Lakshmi Narayana who belongs to the Maharastra cadre was on deputation for 5 years in Hyderabad, as a Joint Director of CBI. During that time he lead sensational cases like Satyam computers scandal case, Jagan Disproportionate Assets case, Obupulavaram Mining company case and Emmar Properties cases. After the deputation he went back to his own cadre, Maharastra. He is currently posted as Additional Director General of Police in Maharastra.
---
Swamiji Conveys His Divine Blesings to all on the ocassion of IndianRepublic Day, January 26th 2017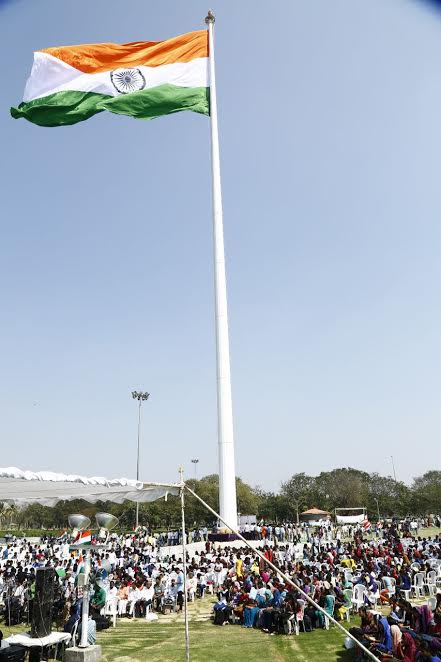 Swamiji has conveyed His Divine Blessings to all Indians and people of Indian origin all over the world on the ocassion of Indian Republic Day,January 26th. Swamiji has conveyed His divine blessings to people from all walks of life from religious leaders, political leaders, The Prime Minister, President, the cabinet ministers and all the political parties and hoped that everyone will unite and transform the whole world into an abode of peace.

Swamiji has urged everyone to unite and transform India into a powerful and peaceful country. If the whole world be considered the human body then India is the heart. Just as only when the heart is healthy and able to take pure blood to all parts of the body the body will be healthy, so also only when India is strong and peaceful the whole world can be peaceful and strong. It is necesary for India to become peaceful as only then it can spread world peace and Love to the entire world .

India is the heart of Mother Earth and Love & peace are its heart beat. Mother India wants us to spread love and peace to the entire world. We should forget our mutual differences or religion, caste or language and unite to become strong and peaceful. Our large population is in itself a great wealth along with the abundant natural resources. With unity there is nothing that can not be achieved. All of us should work together to put India in the top position in all aspects.

We should realise the importance of good education and try to bring it within reach of everyone. We should strive for reaching heights in medical science, industrial science, all aspects of life and reach a state where we recognise and are proud of things "Made in India". We have to guide the youth for the future is in their hands. With the yogic power protecting India and supporting the youth there is no doubt that todays youth will lead India to great success in all walks of life.
The problems we see in the world today is due to the man polluting the nature and five elements thereby causing imbalance among them. It is the duty of all the intellectuals to unite and protect the Mother Earth. Swamiji urged the intelelctuals : Don't forget the Mother Earth, Love the Mother Earth and Protect the Mother Earth.
Swamiji has said that each of us should get the five strengths namely physical strength, mental strength, financial strength, social strength and spiritual strength since it is only then that we can become powerful and peaceful. Swamiji has said that it is our foremost duty to see that we provide the five essentials namely food, clothing, education, shelter and health to each and every person on the earth, since this is very essential to make this Earth an Abode of Peace.

India will be republic in the real sense when we all stand on our own feet and help others and are not dependent on any one else and also enjoy economic freedom, social freedom, cultural freedom.
We are all one, and for the whole world to unite we have to unite.
Unity is our Strength, Humanity is our Life.
Sri Sri Sri Viswayogi Viswamjee Maharaj
---
Swamiji has expressed happiness on America President calling India a true friend and partner in his telephone conversation with Sri. Narendra Modi on the eve of Indian Republic Day. Swamiji added that it is a matter of joy that the two leaders have vowed to unitedly fight against terrorism and to strengthen defence and economic ties. This is the gift that India and America together have to give to the world on this Republic day. Both the countires should unite and along with other countries of the world work to make this world an abode of peace. Swamiji has said that today there is a great need to put knowledge to good use. Knowledge should be used only for constructive purposes and not for destruction. The fact that ISRO has announced to launch 103 satellites in a single launch in February is a proof that India is progressing and emerging as a strong and powerful country in the world. These satellites that are being put into orbit are not just Indian satellites, but satellites of different countries. This is also indication of all the countries working unitedly for the benefit of mankind and to make this world an abode of peace. "Vasudaika kutumbam" and "Sarve janah sukihno bhavantu, Lokah samastah sukhino bhavantu" should be made a reality.
---

Swamiji has conveyed His Divine blessings to Smt. Montessori Koteswaramma


Swamiji has conveyed His Divine blessings to Smt. Montessori Koteswaramma on her being conferred with the Padmasri award. Swamiji has said that Smt. Koteswaramma has played a very significant role in the field of education to women in general and girls in particular. Swamiji has honored Smt. Koteswaramma during one of the events in the past in Viswanagar. Smt. Koteswramma is also grandmother of Ms. Nina Davaluri who was Ms. America in 2014.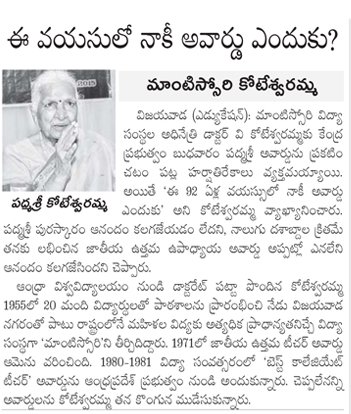 ---
Swamiji has conveyed his Divine Blessings to President Trump who was sworn in as 45th President of United States and wished him success in his endeavors. Swamiji has also conveyed His divine blessings to Mr. Obama and commended him for his efforts to bring about progress in the country and peace in the world.


---


Swamiji Conveys His Divine blessings on Bhogi, Sankranthi & Kanuma
January 13th - 15th 2017
My hearty Divine Blessings to all on the occasion of Sankranthi. This is the day when the sun enters the Makara Rasi. This month and time are very significant as this is the time new crops are ready for harvest. On this day in the villages the people come together make pongal with newly harvested rice and cows milk and new jaggery and offer it to Suryanarayana or the Sun God for he is very vital for the growth and harvest of crops. They also decorate the cows and animals that provide so much service to them and pay their gratitude. Even the act of making rangoli in front of the houses with rice flour is to feed the insects and other minute organisms in the universe. In reality this is the day to unite and pay gratitude to the Sun for he gets the life force (Praana Shakti) from the universe and transmits it to the earth and thereby all the living beings on the Earth. It is this energy which is sustaining life on the Earth. It is the day to pay gratitude to the five elements of which the universe, earth and all of us are composed of and pledge to do all we can to maintain the balance among them and also keep them free of pollution. We should show gratitude to everything and everyone who helps us in some way or other in our lives. This is what Sankranthi is all about. The sense of unity and gratitude that Sankranthi brings and the united way it is celebrated in our villages should spread to the whole world, thereby making this world an abode of peace. Swamiji added that the mind should be filled with good and pure thoughts and should reach the highest state, there by progressing from humanity to divinity and working for the welfare of the society and the world, and make this earth an abode of peace and joy, this in real sense is the UTTARAYANA.
Sri Sri Sri Viswayogi Viswamjee Maharaj
---
Swamiji conveys His Divine Blessings to all on the occasion of New Year 2017

| | | |
| --- | --- | --- |
| | | |
Swamiji has conveyed His Divine Blessings to all on the occasion of New Year. Swamiji has conveyed that it is his desires that the New Year should make this world an abode of peace by getting rid of differences and friction between countries in the world. Swamiji wishes that in this New Year every mind, every country and the whole world should be filled with peace and the lives of all the people should be filled with peace, happiness and prosperity.
---
Swamiji's Message in Andhra Bhoomi on New Years Day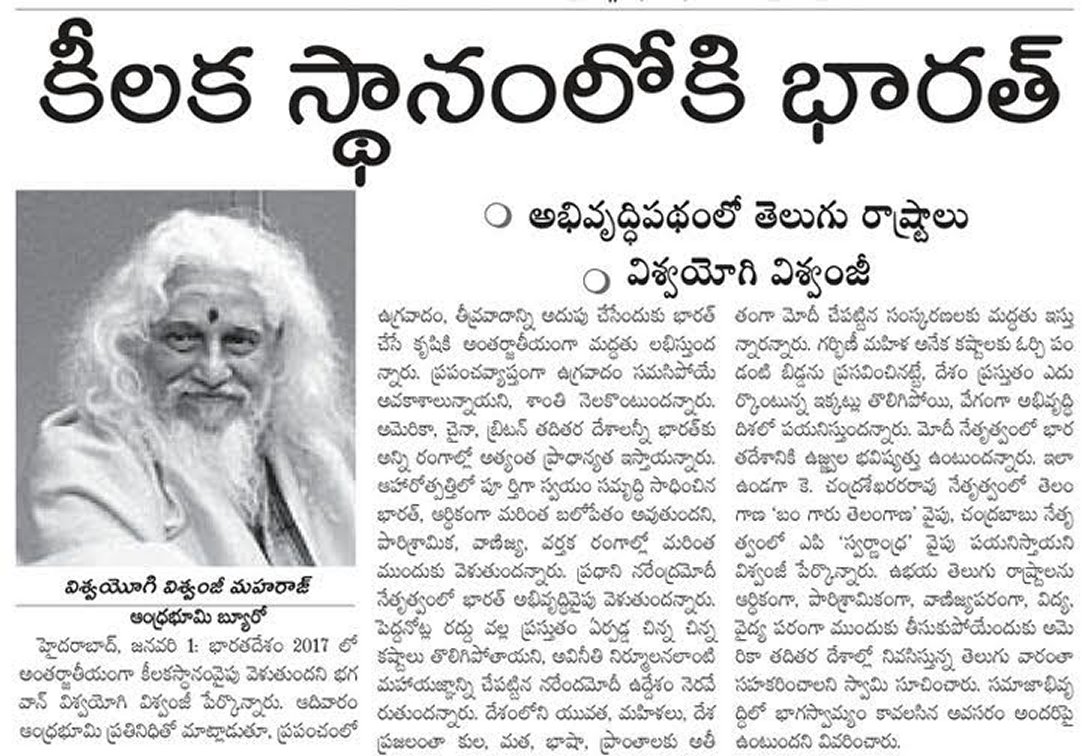 English Translation of above article
India will progress towards a key role position
The Telugu states on the path of progress
Sri Sri Sri Viswayogi Viswamjee Maharaj
His Holiness Sri Sri Sri Viswayogi Viswamjee Maharaj has said that in 2017 India will be marching forward to play an important role internationally. Talking to Andhra Bhoomi representative on Sunday Swamiji said that the efforts India is taking to control terrorism and extremism will be supported by the internationally. There is a scope for controlling and reducing terrorism thereby bringing peace to the world. Swamiji has said that USA, China, Britain and other countries are giving much importance to India in all the fields. India that has become self-sufficient in producing food will become even stronger financially and will progress even more in industry, finance, business and trade. Under the leadership of Prime Minister Sri Narendra Modi India is treading the path of progress. Small problems that have arisen due to abolition of big currency notes will soon be resolved and the project undertaken by Sri. Narendra Modi to uproot corruption will be successful. Swamiji has said that all citizens of the country including women are rising above the feelings of caste, creed, language and region and supporting Sri. Narendra Modi. Just as a pregnant woman has undergo much suffering before giving birth to a beautiful baby the problems the country is facing today will be solved soon and India will very quickly tread the path of progress. Swamiji added that under the leadership of Mr. Modi India has a great future. That being so, under the leadership of Sri K. Chandrasekhar Rao Telangana will progress towards a "Golden Telangana" and under the leadership of Sri. Chandra Babu Naidu Andhra Pradesh will progress towards a "Golden Andhra". Swamiji has indicated that the Nonresident Indians in America and other countries should cooperate for India to move ahead financially, industrially, in business, in education and in medical field. There is a need for everyone to play a role in this path of progress, Swamiji has urged.
Swamiji Conveys His Divine Blessings to all on the ocassion of Vaikunta Ekadashi, January 8th 2017


Swamiji conveys His Divine Blessings to all on the ocassion of Mukkoti Ekadasi.
On the auspicious day of Mukkoti Ekadasi or Vaikuntha Ekadasi all of the Gods(3 crores) unite and bless us. There is a great need today for all of us to unite and pray to the Mukkoti(3crore) Devatas(Gods) and get their blessings to free this world of pollution & terrorism, and to enlighten the human values. If we unite the Lord comes to the earth and blesses us so that this world becomes an abode of peace.
In reality all these Gods reside in our Body, and hence it is very important to keep the body healthy and the mind pure. This is the real meaning of Vaikuntha Ekadasi. Vaikuntha is not anywhere, it is in our heart and the Lord resides in the heart. On this day the ksheerasagara manthana (churning of the ocean) took place and the nectar of immortality (amritha) was distributed to the gods. This divine event is interpreted in the following manner. The ocean of milk is the human heart filled with satvic tendencies (kindness, purity and goodness). However, in all of us there exist both types of inclinations, good (devas) and bad (asuras). Only Sadhana or the churning process will throw out the poison in us and we can procure the sweet nectar, which will liberate us from the cycle of birth and death.
May Lord Dattatreya, who is an embodiment of the 3 crore deities, shower His blessings on everyone.