April 2017

This Month Features :
Swamiji conveys His Divine Blessings to Sri. K. Viswanath on being conferred the Dada Saheb Phalke award for his contributions to film industry

Swamiji honored and conferred the Jnana Ratna award on Sri. K. Viswanath during Swamiji's Shasti Poorthi celebrations in 2004.


Swamiji has conveyed his divine blessings to Sri. K. Viswanath who is well known in the cine industry on the occasion of his winning the prestigious Dadha Saheb Palkhe award for year 2016 for his outstanding contribution to the film industry. On this occasion Swamiji has conveyed His divine blessings to Sri. K. Viswanath and his family and said that Sri. K. Viswanath has made inspirational films like Sankarabharanam, Sagara Sangamam, Swarna Kamalam etc.which adhere to the tenets of the ancient Sanaatana Dharma, with a good story line and beautiful songs and got fame to the film industry and should be an ideal and source of inspiration for all. It may be recalled that Swamiji has honored Sri. K. Viswanath in 2004 during Swamiji's Shasti Poorthi celebrations and conferred the title of Jnana Ratna on Sri. K. Viswanath. It is known to all that Swamiji has been saying that the Telugu states will earn name and fame in the world, and all this is a proof for this .Swamiji has conveyed His divine blessings to all and wished that that the Telugu states should develop and shine in all the fields and get international recognition by intellectuals all over the world.
---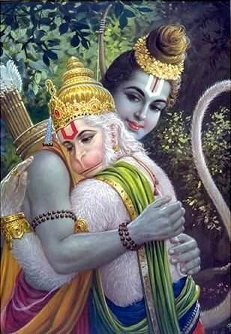 Swamiji's Conveys His Divine Blessings
on the occasion of Hanumath Jayanthi April 11th 2017

Hanuman is a great devotee who mentally focused on Lord Sri Rama's name and physically focused on Sri Rama's Mission. Despite His great achievements he is an embodiment of humility. He surrendered everything to Lord Rama and stood in humility with hands folded, and head bowed. One should try to develop this trait and work without expecting any returns, with the mind fixed on the Lord.
Hanuman is intoxicated by his devotion to Rama and is always in a state of ecstasy in chanting Rama's name. He is all humility in the presence of Rama. He was utterly fearless before Ravana. Before the Divine he is humble and before a demon he was a hero. Hanuman knew how to conduct himself in any situation. He is supremely intelligent. He is an ideal for mankind. Because Hanuman had the Divine in his heart and the Self-confidence, he could have the vision of Rama, wherever he went. When any order was given to him, he never questioned whether he had the strength or the capacity to fulfill the task. He had the firm faith that the very orders of Rama will give him the necessary strength to fulfill those orders. Hanuman showed the strength and necessity of Self-confidence in a clear manner to the world.
The secret of happiness is not in doing what one likes but in liking what one has to do. With this attitude, Hanuman was the one who always took upon himself, with complete obedience, the orders of his master. He never gave room in his mind for any doubts or any hesitation regarding the orders of Lord Sri Rama.
Hanuman exemplified complete freedom from doubts. He has only two desires. To be dear and near to Rama. He has no use for any object, however valuable, which did not proclaim the name of Rama. He threw away the pearl necklace presented to him by Sita because the pearls did not recite Rama's name. Rama praised Hanuman as the greatest of devotees and embraced him and declared, "Hanuman! No material object is fit enough to be given to you as a present. You will live eternally in the world. You have no attachment to the things of the world. Let you be present wherever My glory is sung ." with this blessing from Lord Rama, Hanuman is the greatest yogi, a Chiranjeevi and Para Brahma Swaroopa. Lord Hanuman was there on this earth during the Rama Avatara, He was present during Sri Krishna Avaatar and He is ever present even today.
Yatra yatra RaghunAtha KIrthanam  Tatra tatra Krita-mastakAnjalinm  BAshpa-vAri-paripUrNa-lochanam  MArutim namata rAkshasAntakam
Even today wherever the glories of Lord Rama are sung, Hanuman is present there with His head bowed, hands folded and eyes filled with tears of devotion and blessing the people.
All this was possible because of His constant Nama japa(repitition of Name) of Sri Rama. So powerful is Rama Nama Japam.
On the occasion of Hanumath Jayanthi I wish and bless you all to imbibe these qualities in your mind and lives and secure the blessings of such a chiranjeevi and Para Brahma Swaroopa, Sri Hanuman by constant Nama japa of Sri Rama.
Sri Sri Sri Viswayogi Viswamjee Maharaj
---

Swamiji conveys His Divine Blessings to all on the ocassion of Sri Rama Navami, April 5th 2017
The best gift we can offer to Lord Sri Rama is construction of Rama temple in Ayodhya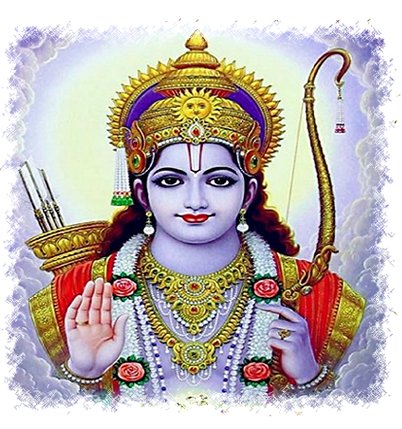 Swamiji has conveyed His Divine Blessings to all on occasion of Sri Rama Navami.

Swamiji has said that the best gift we can offer to Lord Rama is construction of Rama temple in Rama Janma bhoomi, Ayodhya, and doing this through peaceful discussions and without any conflicts or frictions following the guidelines of the Supreme Court.
Sri Rama was virtuous, compassionate, brave and strong. He was the Lord of the mind and the senses. Brave and valiant, and inspite of all this he was gentle and modest. He was a sage in counsel, kind and sweet in speech, and most courteous and handsome in appearance. He was the master of all the divine weapons, and a great warrior. Ever devoted to the good and prosperity of His kingdom and His subjects, He was a defender of the weak and the protector of the righteous. Endowed with numerous wondrous powers of the mind, He was well versed in all sciences--in science of war as well as the science of the Self and in short ideal for the entire humanity. He was an ideal son, husband, father and king. The way he led his life should be an ideal for all of us. Adherence to truth and Dharma(Righteousness) is what Sri Rama's life teaches us. He put into practise the concept of one word, one arrow and one wife.
The life of Sri Rama teaches us the value of detachment and the need to become aware of the Divine in every being. Faith in God and detachment from objective pursuits are the keys for human liberation. Give up sense objects, and you gain Rama. Sita gave up the luxuries of Ayodhya so she could be with Rama during His exile. When she cast longing eyes on the golden deer and craved for it, she lost Rama's presence. Renunciation leads to joy; attachment brings about grief. Be in the world, but not of it.

When Ravana kidnapped Sita, and Rama had to search for Sita and subsequently fight Ravana, he took the help of the monkeys and birds that we ridicule as just animals and fought with Ravaana. He did not desire divine powers but instead he went to the sages and everyone available and with humility accepted their strength and became powerful. He built the floating bridge in the ocean with the help of the monkeys and other animals, so that he could reach Lanka. By all this Rama has shown that human values are more important than gaining superhuman powers and with unity and human values anything can be achieved. This is the most important thing we have to learn from Rama and Ramayana.
To pray to, and worship Lord Rama is not enough, what is needed is for us to make him as our ideal and walk in his footsteps. Perfect humanity like what Sri Rama had will give us the strength to kill the demon like Ravana.
Ramayana, Rama's life has become a part of day to day life of everyone in India. Ramayana is also popular in parts of Russia, where they enact stories from Ramayana, and try to follow the ideals set in it.
Swamiji has conveyed His Hearty Divine Blessings to all on this auspicious day and added that the real worship to Sri Rama we can offer is to work with unity to bring peace to the Earth and make this Earth an abode of peace.