---
Swamiji Conveys His Divine Blesings to all on the ocassion of IndianRepublic Day, January 26th 2014
| | | |
| --- | --- | --- |
| UNITY IS OUR STRENGTH | | HUMANITY IS OUR LIFE |
Swamiji has conveyed His Divine Blessings to all Indians and people of Indian origin all over the world on the ocassion of Indian Republic Day,January 26th. Swamiji has conveyed His divine blessings to people from all walks of life from religious leaders, political leaders, The Prime Minister, President, the cabinet ministers and all the political parties and hoped that everyone will unite and transform the whole world into an abode of peace.

Swamiji has urged everyone to unite and transform India into a powerful and peaceful country. If the whole world be considered the human body then India is the heart. Just as only when the heart is healthy and able to take pure blood to all parts of the body the body will be healthy, so also only when India is strong and peaceful the whole world can be peaceful and strong. It is necesary for India to become peaceful as only then it can spread world peace and Love to the entire world .

India is the heart of Mother Earth and Love & peace are its heart beat. Mother India wants us to spread love and peace to the entire world. We should forget our mutual differences or religion, caste or language and unite to become strong and peaceful. Our large population is in itself a great wealth along with the abundant natural resources. With unity there is nothing that can not be achieved. All of us should work together to put India in the top position in all aspects.

We should realise the importance of good education and try to bring it within reach of everyone. We should strive for reaching heights in medical science, industrial science, all aspects of life and reach a state where we recognise and are proud of things "Made in India". We have to guide the youth for the future is in their hands. With the yogic power protecting India and supporting the youth there is no doubt that todays youth will lead India to great success in all walks of life.
The problems we see in the world today is due to the man polluting the nature and five elements thereby causing imbalance among them. It is the duty of all the intellectuals to unite and protect the Mother Earth. Swamiji urged the intelelctuals : Don't forget the Mother Earth, Love the Mother Earth and Protect the Mother Earth.
Swamiji has said that each of us should get the five strengths namely physical strength, mental strength, financial strength, social strength and spiritual strength since it is only then that we can become powerful and peaceful. Swamiji has said that it is our foremost duty to see that we provide the five essentials namely food, clothing, education, shelter and health to each and every person on the earth, since this is very essential to make this Earth an Abode of Peace.

India will be republic in the real sense when we all stand on our own feet and help others and are not dependent on any one else and also enjoy economic freedom, social freedom, cultural freedom.
We are all one, and for the whole world to unite we have to unite.
Unity is our Strength, Humanity is our Life.
Sri Sri Sri Viswayogi Viswamjee Maharaj
(Saare Jahan Se Accha plays automatically, please turn on speakers to listen ..)
---
Swamiji's Message in Andhrabhoomi, January 23rd 2013 edition



Swamiji has said that Famous Film Star Akkineni Nageswara Rao is always evergreen. He not only beleived in "Shrama Eva Jayathe", but also put it into practise. He is a true human being who believed that perfect Humanity is divinity, and all his life strived to spread and inculcate human values in all. He has given strength to many and is an ideal for everyone, and will always live in the heart of his admirers and well wishers. Sri Akkineni Nageswara Rao's life is blessed and he has reached a state of no rebirth. Swamiji has conveyed his Blessings to His Family and wellwishers and said that His life and principles should be made as ideals and followed.
---

Sri Sri Sri Viswayogi Viswamjee Maharaj was Chief Gurest in a function organized by J.C.E Guntur Red Chilliez in Mahima Gardens in Guntur where a program was organized to honor Padmasri Dr. Viswanath and famous Dancer Kalaratna Smt. Manju Bhargavi, on January 18th 2014.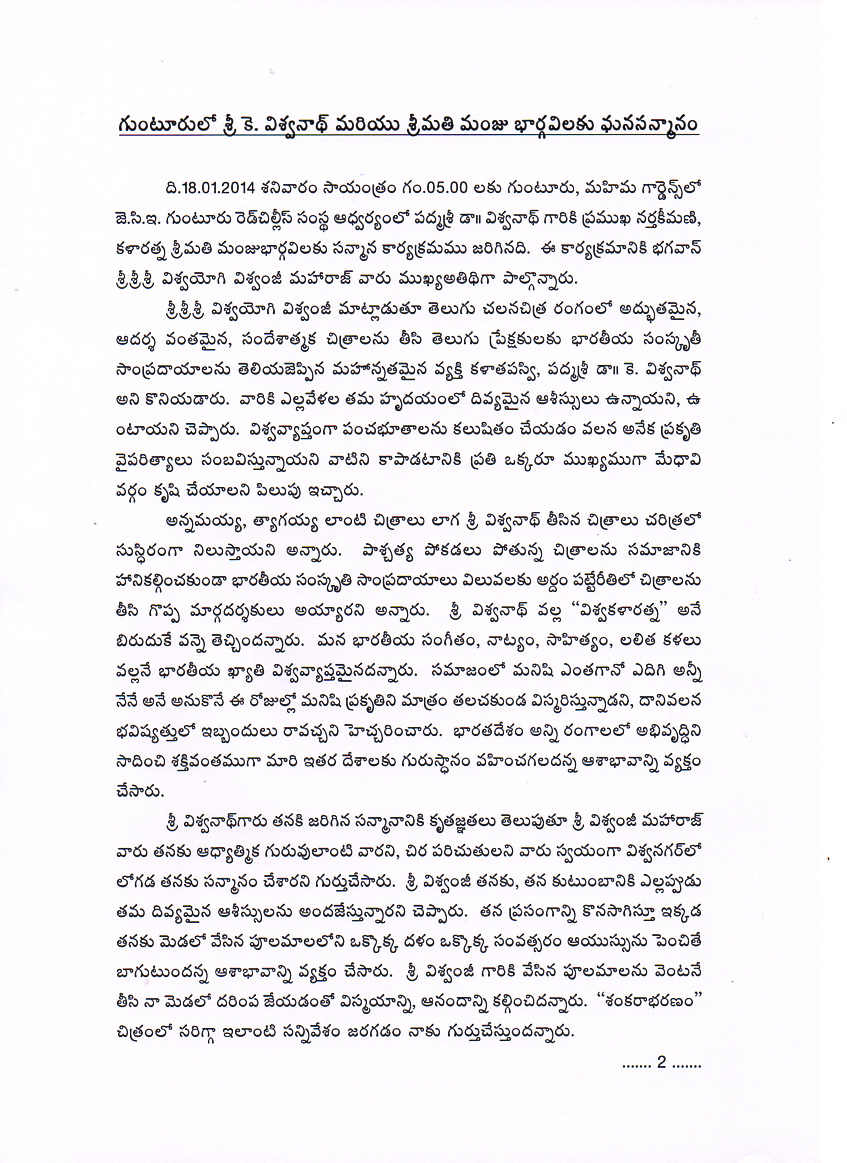 News Item in Sakshi, January 19th 2014 Edition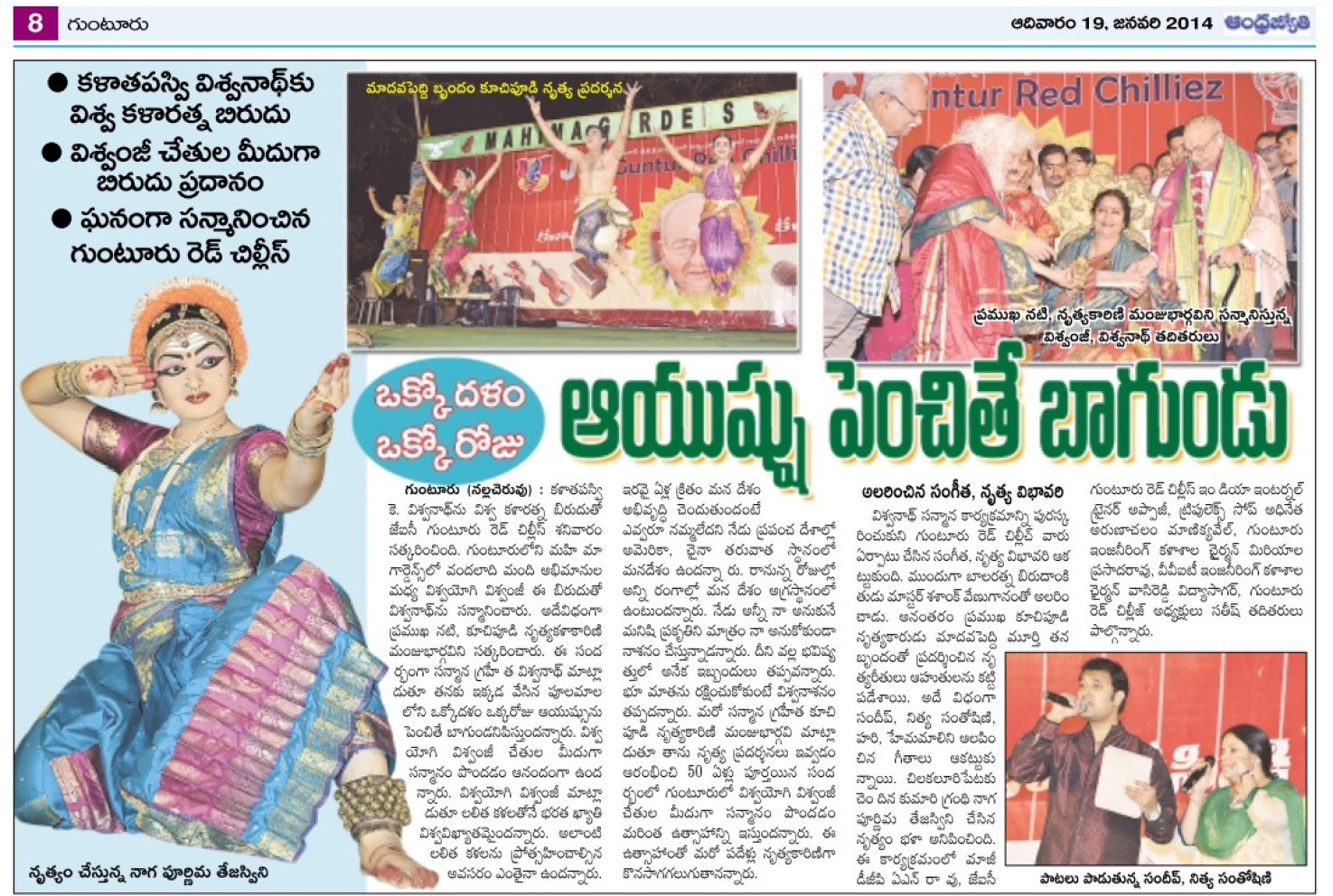 Article in Andhra Jyothy, January 19th 2014 edition
---

Swamiji Conveys His Divine Blessings to all on the ocassion of Vaikunta Ekadashi, January 11th 2014


Swamiji conveys His Divine Blessings to all on the ocassion of Mukkoti Ekadasi.
On the auspicious day of Mukkoti Ekadasi or Vaikuntha Ekadasi all of the Gods(3 crores) unite and bless us. There is a great need today for all of us to unite and pray to the Mukkoti(3crore) Devatas(Gods) and get their blessings to free this world of pollution & terrorism, and to enlighten the human values. If we unite the Lord comes to the earth and blesses us so that this world becomes an abode of peace.
In reality all these Gods reside in our Body, and hence it is very important to keep the body healthy and the mind pure. This is the real meaning of Vaikuntha Ekadasi. Vaikuntha is not anywhere, it is in our heart and the Lord resides in the heart. On this day the ksheerasagara manthana (churning of the ocean) took place and the nectar of immortality (amritha) was distributed to the gods. This divine event is interpreted in the following manner. The ocean of milk is the human heart filled with satvic tendencies (kindness, purity and goodness). However, in all of us there exist both types of inclinations, good (devas) and bad (asuras). Only Sadhana or the churning process will throw out the poison in us and we can procure the sweet nectar, which will liberate us from the cycle of birth and death.
May Lord Dattatreya, who is an embodiment of the 3 crore deities, shower His blessings on everyone.
---

Swamiji Conveys His Divine Blessings to all on the ocassion of New Years Day, January 1st 2014