Pictures and Video Clip of Independence Day Celebrations in Divine Presence of His Holiness Bhagwan SriSri Sri Viswayogi Viswamjee Maharaj in Raleigh, NC

Swamiji Conveys His Divine Blesings to all on the ocassion of Indian Independence Day, August 15th 2011
| | | |
| --- | --- | --- |
| UNITY IS OUR STRENGTH | | HUMANITY IS OUR LIFE |
Swamiji has conveyed His Divine Blessings to all Indians and people of Indian origin all over the world on the ocassion of Indian Independence Day, August 15th. Swamiji has urged everyone to unite and transform India into a powerful and peaceful country. It is necesary for India to become peaceful as only then it can spread world peace and Love to the entire world . India is the heart of Mother Earth and Love & peace are its heart beat. Mother India wants us to spread love and peace to the entire world. Unitedly we should all fulfil the desire of the Mother Earth, Swamiji said. We should fill our mind with peace and heart with love, and offer these at Her Lotus Feet and spread love and peace.
Swamiji has conveyed His divine blessings to people from all walks of life from religious leaders, political leaders, The Prime Minister, President, the cabinet ministers and all the political parties and hoped that everyone will unite and transform the whole world into an abode of peace.
Swamiji has said that each of us should get the five strengths namely physical strength, mental strength, financial strength, social strength and spiritual strength since it is only then that we can become powerful and peaceful. Swamiji has said that it is our foremost duty to see that we provide the five essentials namely food, clothing, education, shelter and health to each and every person on the earth, since this is very essential to make this Earth an Abode of Peace.
(Saare Jahan Se Accha plays automatically, please turn on speakers to listen ..)
---


Swamiji Conveys His Divine Blessings to all on the ocassion of Sravana Poornima, Raksha Bandhan, August 13th 2011
Sravana Poornima, Raksha Bandhan, August 13th 2011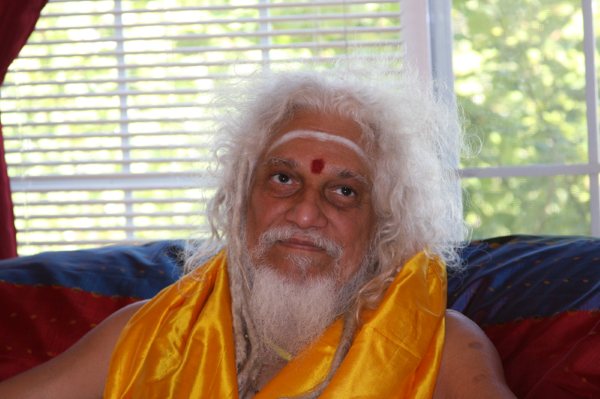 Swamiji has conveyed His divine blessings to all on the ocassion of Shravana Poornima & Raksha Bandhan, on the August 24th 2010. Swamiji has said that Raksha bandhan symbolises the love and affection between the brother and sister. On this day the brother should visit his sisters house, get rakhi tied on his hand, have food at her house and pledge to always support and protect her and fulfill her desires.

One of the oldest legendary references to the festival of Rakhi goes back to 300 B.C. At this time Alexander the Great, was invading India. Alexander was shaken by the fury of the Indian king Puru in his first attempt. Upset by this, Alexander's wife, who had heard of the Rakhi festival, approached King Puru. King Puru accepted her as his sister and when the opportunity came during the war, he refrained from fighting Alexander. In the war, when Alexander fell from his chariot and King Puru was about to slay him, King Puru saw the Rakhi on his wrist and he drew his sword back!
Raksha Bandhan rituals has a wisdom behind it is that it is a lifelong process of practising and promoting human, moral, cultural, social and spiritual values and empowering it will help to restore positivity and virtues in life and society.