"Punya Jeevi(Holy), Dhanya Jeevi(Blessed), Karma Yogi" – Sri Madhavapeddi Radha Krishna Murthy
(Swamiji praises Madhavapeddy Sri Radhakrishna Murthy who left his physical body and merged with Sai, on September 17th at about 7:00 PM IST)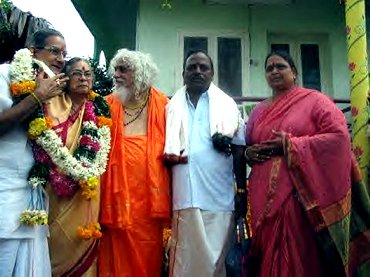 Swamiji honouring Smt & Sri Madhavapeddi Radhakrishna Murthy, also seen in the picture are Smt. & Sri. Akula Koteswara Rao.
Swamiji's Message:
Sri Madhavapeddi Radhakrishna Murthy who was a prominent advocate and served as Secretary & President of Hindu College Guntur, Legal advisor for many organizations, President of many social organizations, left his mortal body on September 17th at 7:00 PM, merging with Sai. During his lifetime he did a lot of service and stood as support and help to many people and gained fame and admiration of all.

Swamiji has said "Jathasya Maranam Dhruvam" . Every one who is born has to leave the physical body one day, even Avatara Purushas and Mahatmas have to leave their body one day.
Swamiji has said that Sri Madhavapeddi Radhakrishna Murthy was a beloved and dear disciple of Mataji Krishna Priya, very devoted devotee of Sri Sai, a social worker and immersed in service to Sai.
Swamiji has said that Sri Madhavapeddi Radhakrishna Murthy has a permanent place in the heart of Viswayogi, and a prominent place in Viswamandiram. He has become a Chiranjeevi(Immortal) after leaving his physical body and merging in Sai and it does not befit any one to grieve or feel bad about his passing away. Many years ago, when Swamiji asked Sri Madhavapeddi Radhakrishna Murthy , "What do you want?". Sri Radhakrishna Murthy replied, "I don't want another life after this, I want to merge in YOU". "Yat Bhavam, Tat Bhavati" ," He has merged in Sai, and there is no rebirth for Him. He is a Punya Jeevi(Holy), Dhanya Jeevi(Blessed) and a Karma yogi", said Swamiji.


Sri Madhavapeddi Radhakrishna Murthy participating in functions organized in Viswanagar.


Birthday celebrations, 2003 Datta Jayanthi Celebrations 2004 Datta Jayanthi Celebrations 2004
(1st from left) (1st from right)


---
Sri Akula Koteswara Rao and Smt. Eswari, and all the members of Viswamandiram convey their resepects and gratitude to Late Sri Radha Krishna Murthy Garu and convey their heartfelt sympathies to Sri Madhavapeddy Radhakrishna Murthy's wife and family members, and pray to Swamiji to merge and give peace to His soul.
---

Swamiji's Divine Message on Vinayaka Chathurthi, September 3rd 2008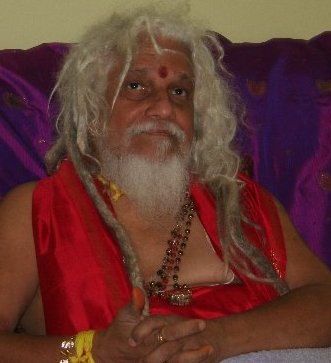 Swamiji has conveyed his divine blessings to all on the ocassion of Ganesh Chaturthi.
There is a special significance of Ganesh Chathurthi falling on a Wednesday. It is very favourable for the development of intellect. Lord Ganesha is one who bestows intelligence and success and also removes obstacles that come our way.
Swamiji wishes that Lord Vinayaka (who is the remover of all obstacles) should bring peace , happiness and prosperity to everyone, thereby making the world an abode of peace (Prasanthi Nilayam).
---
Spiritual Significance of Lord Ganesha
(This has been taken from from "Viswaratnamala", by Smt. Ratnamohini)
Lord Ganapati is the Lord of all Groups. He is being worshipped since primitive times, and also considered as the main power.
Those who pray to Lord Vinayaka on the Vinayaka Chaturthi day are well aware of his Lordship. Lord Ganapati bestows wisdom and realization. Both these powers are under his control. What these powers do is let deeds done with good intentions meet with success, and placing obstacles for bad deeds. Ganapati is the powers of Lord Shiva and Goddess Parvati in union. He is the guide who delivers to the God we worship, whatever prayers we offer. He is setting an ideal for the mankind through his life. Who so ever prays to him with devotion, he bestows auspiciousness, realization and intellect, and showers his grace so that all tasks are accomplished with wisdom.
Lord Vinayaka is embodiment of education. His knowledge is very sharp. He is a great poet among poets. Sage Vyasa used Lord Ganapati for writing the epic Mahabarata, While writing when his pen broke, he immediately pulled out his tusk, and used it as a pen, thereby showing us that one should not waste any time. He is called as Eka Dantaya, because of being left with only one tusk.
Lord Ganapati is symbolic of Sattvic food. His behavior is Sattvic(balanced) in nature, because of taking Sattvic food. He does not have any desires. He has made desire is vehicle. The mouse depending upon the smell wishes for everything, and craves for it. The vehicle as a mouse is symbolic of the fact that Lord Ganapati has cravings and desires under his control.
Ganapati is the basis for all life, just as OM is the basis of all sounds. For all living beings and all endeavors, Lord Vinayaka qualifies to be worshipped first. Just as the footprints of all the animals in a forest merge into the footsteps of an elephant, Lord Vinayaka merges into himself, the footsteps of all living beings. The elephant head of Lord Vinayaka symbolizes all good qualities. One who ha proven that the whole world is in him, is Lord Vinayaka. We believe that because of eating food, Vinayaka has a big belly. In reality what it means is a stomach that has the whole universe in it.
Ganapati also means divinity in humanity. It also means humanity with human instinct. In any good task you undertake he protects you like God. If you do any wrong deeds he will torment you like an animal. So what Vinayaka philosophy preaches is to do good tasks with good intentions and good intellect.
Lord Ganapati drives away all obstacles and blesses any work undertaken by us with good intentions.
---